Meet Greta Helsing, doctor to the undead . . .
There's a new fantasy character in town and it's time for you to meet her!
Dr Greta Helsing is a talented and well-respected physician with a highly specialised – and highly peculiar – medical practice in London's Harley Street.
If the name sounds familiar, that's because Greta is a descendent of the vampire hunter Professor Abraham Van Helsing. Luckily for her, family relations with the undead have improved since the nineteenth century and Greta now spends her days carrying on her father's legacy by treating London's supernatural community for a host of ills, such as vocal strain in banshees, arthritis in barrow-wights and entropy in mummies.
We managed to grab a few minutes with the busy doctor for a quick interview. You can read it here.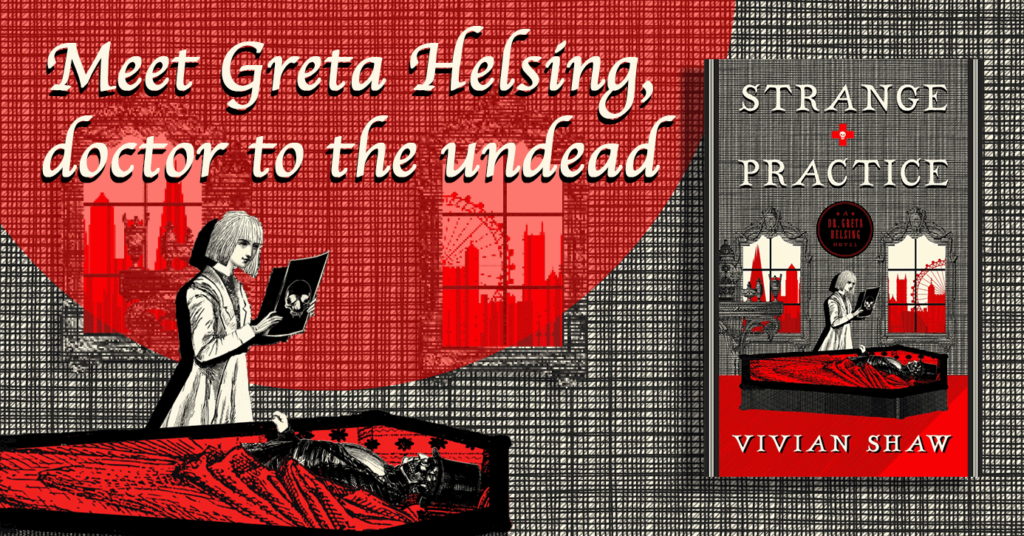 If you want to find out more about Greta's adventures in medicine and  mystery, STRANGE PRACTICE (US/UK/ANZ) is hitting shops next week! You can read the first chapter here.
'A darkly delicious adventure featuring a quirky new heroine. Strange Practice breathes new life into the undead' James Bennett, author of Chasing Embers
'Greta is a refreshing urban fantasy heroine, strong and smart and utterly normal, despite her chosen profession.' Booklist
'Strange Practice surprises and delights . . . But the greatest elements of the book are the characters. They shine' Bookbag
'An excellent adventure' Fran Wilde
'What a splendid adventure this is – Dr Greta Helsing is a brilliant character' Espresso Coco
'An exceptional and delightful debut' Elizabeth Bear
'Readers will look forward to more of Greta's adventures. An imaginative, delightfully droll debut' Kirkus