Get ready for a brand new fantasy trilogy by David Dalglish!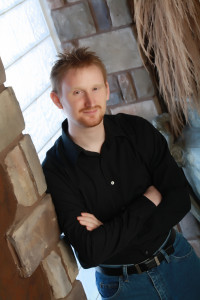 David Dalglish is returning to his epic fantasy roots with a brand new trilogy. Promising monsters and magic in a land where both were previously just legend, Dalglish's new trilogy will be another epic thrill ride. The first book is scheduled for 2019, but if you're too excited to wait, make sure to pick up the Shadowdance and Seraphim series or say hi to the author on twitter @thatdalglishguy.
Devin Eveson is a Soulkeeper, traveling through remote villages as a preacher and healer. But when a dragon awakens–the size of a mountain and leaving great chasms in its wake–the veil is torn, flooding the land with ancient magic and forgotten raes. Now Devin must set aside his words of peace and accept his new role: slayer of monsters and protector of the human race.
But not all the creatures that have re-awakened mean humanity harm. And as Devin slowly befriends people of these new races, his discomfort in his role grows. But Soulkeepers must slay without mercy. And even sympathizers risk their wrath.