Cover Launch: A BOY AND HIS DOG AT THE END OF THE WORLD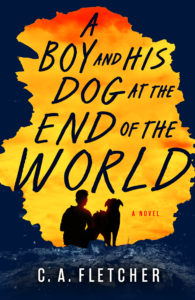 With a simultaneous launch across all our channels today, we're proud to share a new cover by Lauren Panepinto and Lisa Marie Pompilio.
My name's Griz. I've never been to school, I've never had friends, in my whole life I've not met enough people to play a game of football. My parents told me how crowded the world used to be, before all the people went away, but we were never lonely on our remote island. We had each other, and our dogs.
Then the thief came.
He told stories of the deserted towns and cities beyond our horizons. I liked him – until I woke to find he had stolen my dog. So I chased him out into the ruins of the world.
I just want to get my dog back, but I found more than I ever imagined was possible. More about how the world ended. More about what my family's real story is. More about what really matters.
A BOY AND HIS DOG AT THE END OF THE WORLD is coming April 2019, and it's the most powerful story you'll read next year. Reminiscent of THE GIRL WITH ALL THE GIFTS and STATION ELEVEN, Griz's tale mixes sadness and hope in one unforgettable character's quest amid the remnants of our fragile civilisation.