Cover Reveal: MAGEBANE by Stephen Aryan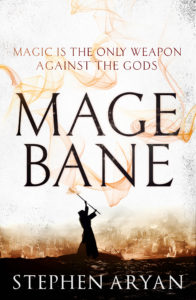 Only magic can defeat a god . . .
MAGEBANE is the action-packed conclusion to Stephen Aryan's Age of Dread series – publishing June 2019.
A plague rages in the streets of Perizzi. City guards rally to deal with riots while the young magicians of the Tower pool their healing powers to find a cure.
Elsewhere, new alliances are formed to stem the rising darkness strengthening a deity who feeds on pestilence and decay. Gods, Sorcerers and Battlemages must set aside the past and their vendettas to work together or risk unleashing greater suffering than they can possibly imagine . . . 
Praise for Stephen Aryan
'A vivid and rousing adventure with the kind of magic that punches you right in the face' – Jen Williams
'Epic fantasy for readers who appreciate extra helpings of carnage with their backstabbing' – Publishers Weekly
'Stephen Aryan puts the epic into Epic Fantasy. This is a ground-shaking debut, full of fiery promise' – Den Patrick
'Aryan's battle scenes are visceral masterpieces that transport the reader deep into the mêleé' – Taran Matharu