Cover Launch: RULE by Rowenna Miller
If you've missed Rowenna Miller's beguiling world of sartorial sorcery, court intrigue, and revolutionary royals, the wait is nearly over—the thrilling conclusion to her French Revolution-inspired epic fantasy, RULE, is hitting shelves in May 2020.  
In the meantime, check out the final book's gorgeous cover, with art by Carrie Violet and design by Lisa Marie Pompilio.
The civil war that the charm caster Sophie and the Crown Prince Theodor tried so desperately to avert has come to Galitha.

While Theodor joins Sophie's brother and his Reformist comrades in battle, hoping to turn the tide against the better-supplied and better-trained Royalist army, Sophie leverages the only weapon she has: charm and curse casting. She weaves her signature magic into uniforms and supplies, but soon discovers that the challenges of a full-scale war are far greater than the entrepreneurial concerns of her small Galithan dress shop.

The fractured leadership of the Reformist army must coalesce, the people of Galitha unite against enormous odds, and Sophie must create more than a little magical luck in order to have a chance of victory.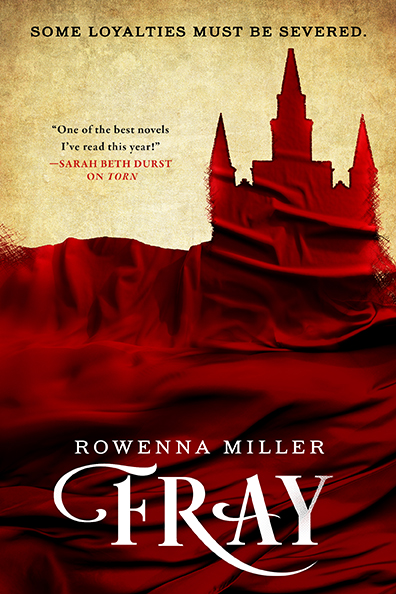 Praise for The Unraveled Kingdom:
"Fantasy fans, especially those who grew up reading Tamora Pierce's Circle of Magic series, will adore Sophie and be riveted as she navigates her shop, her new place in society, her love life, and a potential war. Miller accomplishes the tricky task of keeping the action exciting and page-turning…Highly recommended."
—Booklist (starred review) on Fray
"A tense plot and satisfying character development. This enjoyable installment maintains the innovative magic and well-handled conflict between the personal and the political that marked the series debut."
—Kirkus on Fray
"Miller places immigrant ambition and women's lives at the heart of her magical tale of politics and revolution. I was utterly enchanted by this unique, clever and subtly fierce fantasy."
—Tasha Suri, author of Empire of Sand on Torn
"Miller weaves a fresh, richly textured world full of magic-stitched ball gowns and revolutionary pamphlets. The vivid, complex setting and deeply human characters make for an absorbing read!"
—Melissa Caruso, author of The Tethered Mage on Torn