Cover Launch: THE TROUBLE WITH PEACE by Joe Abercrombie
A LITTLE HATRED arrived on the epic fantasy battlefield with much more than a little fanfare. The first book in Abercrombie's latest trilogy, The Age of Madness, proved once again that he is "a master of his craft" (Forbes).
Yesterday, Forbes unveiled the cover for, THE TROUBLE WITH PEACE. And if you've read A Little Hatred, then you know there will, indeed, be trouble… (if you haven't had a chance yet, well…what better time than now!).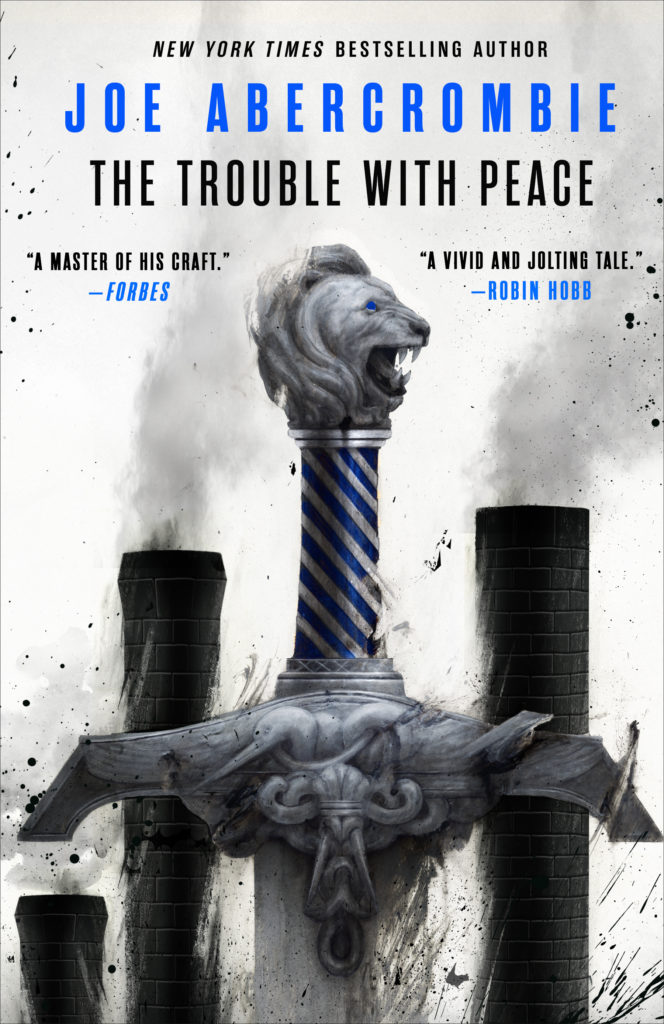 Art by Sam Weber. Design by Lauren Panepinto.
The hardcover, ebook, and audio book all publish on September 15th.
Learn more at Forbes and read their review of A Little Hatred.
As we gear up for the publication of The Trouble with Peace, we'll also be publishing the paperback edition of A Little Hatred on August 11th. We've slightly redesigned the cover for this new edition. Check it out below!
Art by Sam Weber. Design by Lauren Panepinto.
Praise for The Age of Madness Trilogy:
"Abercrombie squeezes your heart till it matches his beat. No one writes with the seismic scope or primal intensity of Joe Abercrombie." – Pierce Brown, #1 New York Times bestselling author
"Abercrombie continues to do what he does best . . . . A vivid and jolting tale." – Robin Hobb, New York Times bestselling author
"Highly recommended – a funny, finely-wrought, terrifically energetic work of high fantasy. Seek it out." – Joe Hill, #1 New York Times bestselling author
"Rife with emotion with wit to spare, both honed to an effortlessly fine edge. A Little Hatred is the joy of watching a master of the craft with his tools at their sharpest." – Sam Sykes, author of Seven Blades in Black
"A Little Hatred is Abercrombie at his very best: witty, wise, and whip-smart. Masterfully plotted . . . . I had high hopes for this book, and it exceed them all." – Nicholas Eames, author of Kings of the Wyld
"Brutal, unforgiving, and terribly fun. Everything awesome readers have come to expect from Joe Abercrombie." – Brian McClellan, author of Sins of Empire
"Joe Abercrombie's powerful voice raises the bar in any literary genre. Fantasy fans are beyond fortunate he chose this one." – Myke Cole, author of The Armored Saint
"With expert craft, Abercrombie lays the groundwork for another thrilling trilogy." – Publishers Weekly (starred review)
"Say one thing for Joe Abercrombie, say that he's a master of his craft." – Forbes
"Abercrombie unerringly juggles a large cast of multifaceted, morally ambiguous characters, each embroiled in their own complicated story." – Booklist (starred review)
"A critical, compelling epic fantasy loaded with wonderfully drawn characters, the bloodletting tempered with sharp social commentary and a touch of satire . . . . It doesn't feel like a stretch to say Abercrombie's on his way to writing another masterpiece of epic fantasy." – B&N Sci-Fi & Fantasy Blog
"A Little Hatred may be the most accomplished work from a writer who many already consider a master." – SFF World
"[Abercrombie] might have his most important series of novels yet." — Locus