Acquisition News: Orbit to publish a new science fiction trilogy from Adrian Tchaikovsky!
We are thrilled to announce that we have acquired three new science fiction novels by Adrian Tchaikovsky, the Arthur C. Clarke Award-winning author of CHILDREN OF TIME and CHILDREN OF RUIN, for publication in the US. The books were acquired from Pan Macmillan, who will publish the novels on the Tor imprint in the UK, by Orbit senior editor Brit Hvide.
The new far-future science fiction trilogy begins with SHARDS OF EARTH, which will be published worldwide in spring 2021. The novel is set fifty years after a war that nearly extinguished humanity, when the enemies of the human race reappear after a long silence.
Adrian Tchaikovsky says: "I am absolutely delighted to launch this new space opera. I had a blast writing the first volume and I'm looking forward to everywhere the series is going to go."
Tchaikovsky's next work is THE DOORS OF EDEN, which will be published by Orbit in the US on September 22, 2020.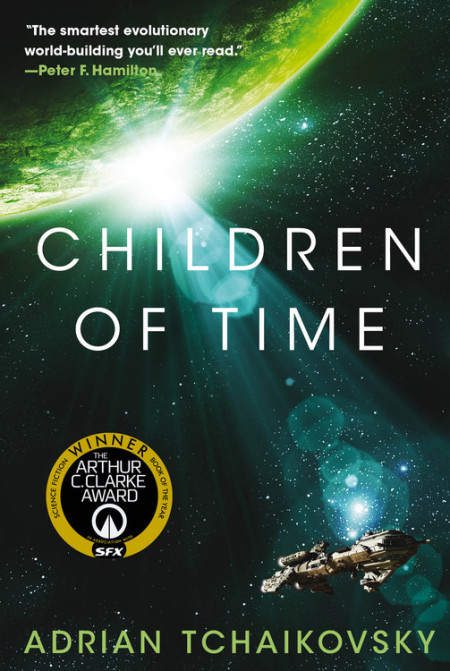 Praise for Adrian Tchaikovsky: 
"Children of Time is a joy from start to finish. Entertaining, smart, surprising and unexpectedly human." —Patrick Ness
"Brilliant science fiction and far out world building" —James McAvoy

"A refreshingly new take on post-dystopia civilizations, with the smartest evolutionary worldbuilding you'll ever read" — Peter F Hamilton
"A magnificently imaginative space opera." — B&N Sci-Fi & Fantasy Blog
"Like a Stephen Baxter novel with an epic sweep of history, added to a broad cast of a Peter Hamilton Space Opera and the narrative drive of, say, a David Brin or a Greg Bear old style SF novel, Children of Time soon got me hooked." — SFF World
"Children of Time has that essence of the classic science fiction novels, that sense of wonder and unfettered imagination but combined with this is the charm of a writer who really knows how to entertain, how to spin a good story. Essential science fiction, a book not to be missed." — SF Book
"The novel's clever interrogation of the usual narrative of planetary conquest, and its thoughtful depiction of two alien civilisations attempting to understand each other, is an exemplar of classic widescreen science fiction." —New Scientist
"This is superior stuff, tackling big themes – gods, messiahs, artificial intelligence, alienness – with brio." —Financial Times
"An entertaining and thought provoking novel of post humanity, survival and legacy." — SF Signal
"Tchaikovsky's prose is superb, and his world-building was exceptional, brilliantly realized on the page, and both fascinating and original." — Civilian Reader