Cover Launch: A MASTER OF DJINN by P. Djèlí Clark
With less than a week to go until the release of the ebook of P. Djèlí Clark's debut novel, A MASTER OF DJINN (UK|ANZ), we're thrilled to share the final cover. Anyone wanting to get their hands on a physical copy will have to wait a little longer, as the paperback won't be hitting the shops until August. In the meantime, feast your eyes on the beautiful design created by Little, Brown's very own Matthew Burne.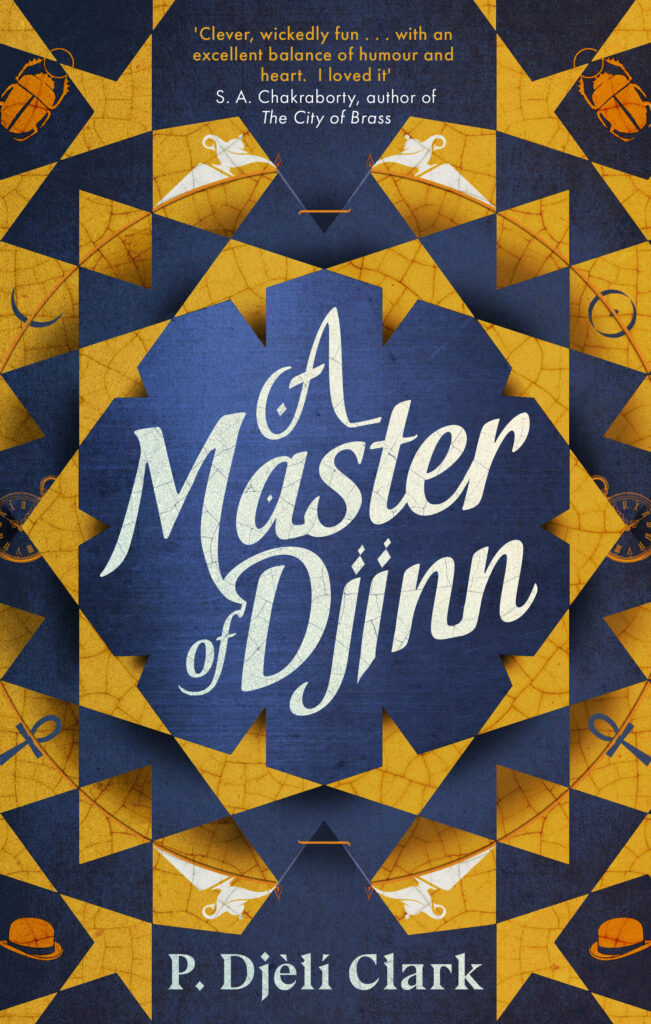 Read on for a taste of what's in store:
Cairo, 1912: Though Fatma el-Sha'arawi is the youngest woman working for the Ministry of Alchemy, Enchantments and Supernatural Entities, she's certainly not a rookie, especially after preventing the destruction of the universe last summer.
So when someone murders a secret brotherhood dedicated to one of the most famous men in history, Al-Jahiz, Agent Fatma is called onto the case. Al-Jahiz transformed the world fifty years ago when he opened up the veil between the magical and mundane realms, before vanishing into the unknown. This murderer claims to be Al-Jahiz, returned to condemn the modern age for its social oppressions. His dangerous magical abilities instigate unrest in the streets of Cairo that threaten to spill over onto the global stage.
Alongside her Ministry colleagues and a familiar person from her past, Agent Fatma must unravel the mystery behind this imposter to restore peace to the city – or face the possibility he could be exactly who he seems . . .
'Clever, wickedly fun . . . with an excellent balance of humour and heart. I loved it'
S. A. Chakraborty, bestselling author of The City of Brass
'A Master of Djinn has all the tricky twists I want in a police procedural and all the djinns, magic and wonder I want from fantasy'
Mary Robinette Kowal, Hugo and Nebula award-winning author of The Calculating Stars
'An epic tale of magic and mystery, this is sure to wow'
Publishers Weekly
'A Master of Djinn is everything you might expect from Clark: cinematic action, a radical reimagining of real history, and magic on every page. I loved it'
Alix E. Harrow, author of The Ten Thousand Doors of January
'The kind of book you don't want to put down'
Marie Brennan, World Fantasy and Hugo Award-nominated author