Cover Launch: LEVIATHAN WAKES 10TH ANNIVERSARY EDITION by James S. A. Corey
Can you believe it's been a full ten years since LEVIATHAN WAKES first published? The first book in the Expanse launched a stellar New York Times-bestselling nine-book space opera series that went on to connect with millions of readers, win a Hugo Award, and inspire a hit TV show. To celebrate, we're launching a beautifully designed 10th anniversary edition of the book that started it all on September 21st (Pre-order in the US | Pre-order in the UK). Featuring a reversible cover, painted edges, a black and magenta foil case, and a stunning endpaper map, this edition is the best way to celebrate the modern masterwork of science fiction before it comes to a close later this year.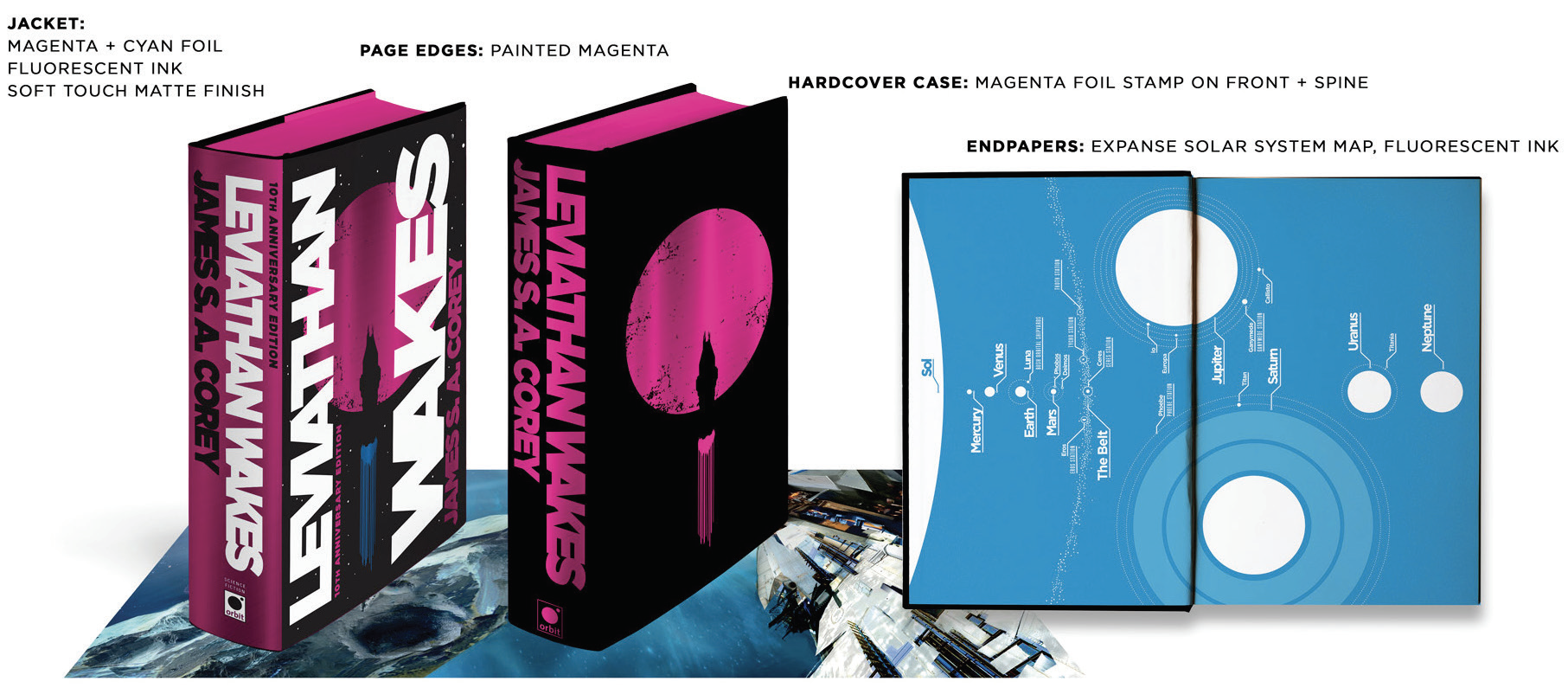 For the design of this anniversary edition, we wanted to highlight the incredible fanbase that has grown up around the Expanse, including all the great artists — both fans and professionals — who have contributed to the universe that grew around the books and show. We found poster artist Jay Clark's homage to the Rocinante and his solar system map online, and commissioned him to adapt his work to this new edition. Meanwhile, we decided to honor Daniel Dociu's original Leviathan Wakes cover art by reprinting it in its uncropped glory on the inside of the book jacket.
Praise for The Expanse
"It's been too long since we've had a really kickass space opera. LEVIATHAN WAKES is interplanetary adventure the way it ought to be written." ―George R.R. Martin
"This is the future the way it was supposed to be." ―The Wall Street Journal
"As close as you'll get to a Hollywood blockbuster in book form." ―io9.com
"Riveting interplanetary thriller." ―Publishers Weekly
"The science fictional equivalent of A Song of Ice and Fire…only with fewer beheadings and way more spaceships." ―NPR Books
"High adventure equaling the best space opera has to offer, cutting-edge technology, and a group of unforgettable characters."  —Library Journal (starred review)