Cover Launch: QUANTUM OF NIGHTMARES by Charles Stross
A new adventure begins, set in the bestselling world of the Laundry Files . . .
We're thrilled to reveal the cover for QUANTUM OF NIGHTMARES, the second book in the New Management series by Hugo Award-winning author Charles Stross: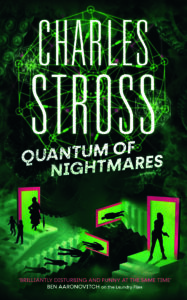 Design by Crush Creative
Publishing in hardback in January 2022, QUANTUM OF NIGHTMARES is available for pre-order now.
Read on for a preview of what's to come:
It's a brave new Britain under the New Management. The Prime Minister is an eldritch god of unimaginable power. Crime is plummeting as almost every offense is punishable by death. And everywhere you look, there are people with strange powers, some of which they can control, and some, not so much.
Hyper-organised and formidable, Eve Starkey defeated her boss, the louche magical adept and billionaire Rupert de Montfort Bigge, in a supernatural duel to the death. Now she's in charge of the Bigge Corporation, just in time to discover the lethal trap Rupert set for her long ago . . .
Wendy Deere is investigating unauthorised supernatural shenanigans. She swore to herself she wouldn't again get entangled with Eve Starkey's bohemian brother Imp and his crew of transhuman misfits. Yeah, right.
Mary Macandless has powers of her own. Right now she's pretending to be a nanny in order to kidnap the children of a pair of famous, Government-authorised adepts. These children have powers of their own, and Mary Macandless is in way over her head.
All of these stories will come together, with world-bending results . . .
Praise for the Laundry Files:
'Brilliantly disturbing and funny at the same time' Ben Aaronovitch
'Stross at the top of his game – which is to say, few do it better' Kirkus
'Alternately chilling and hilarious' Publishers Weekly
'Ferociously enjoyable' SFX