Blameless
September-10 | 0-316-07415-2 | 978-0-316-07415-5 | MASS MARKET
Quitting her husband's house and moving back in with her horrible family, Lady Maccon becomes the scandal of the London season.
Queen Victoria dismisses her from the Shadow Council, and the only person who can explain anything, Lord Akeldama, unexpectedly leaves town. To top it all off, Alexia is attacked by homicidal mechanical ladybugs, indicating, as only ladybugs can, the fact that all of London's vampires are now very much interested in seeing Alexia quite thoroughly dead.
While Lord Maccon elects to get progressively more inebriated and Professor Lyall desperately tries to hold the Woolsey werewolf pack together, Alexia flees England for Italy in search of the mysterious Templars. Only they know enough about the preternatural to explain her increasingly inconvenient condition, but they may be worse than the vampires — and they're armed with pesto.
Mr. Shivers
September-10 | 0-316-05469-0 | 978-0-316-05469-0 | MASS MARKET
It is the time of the Great Depression.
Thousands have left their homes looking for a better life, a new life. But Marcus Connelly is not one of them. He searches for one thing, and one thing only: Revenge.
Because out there, riding the rails, stalking the camps, is the scarred vagrant who murdered Connelly's daughter.
One man must face a dark truth and answer the question – how much is he willing to sacrifice for his satisfaction?
Married with Zombies
September-10 | 0-316-10286-5 | 978-0-316-10286-5 | MASS MARKET

A heartwarming tale of terror in the middle of the zombie apocalypse.
Meet Sarah and David. Once upon a time they met and fell in love. But now
they're on the verge of divorce and going to couples' counseling. On a routine
trip to their counselor, they notice a few odd things – the lack of cars on
the highway, the missing security guard, and the fact that their counselor,
Dr. Kelly, is ripping out her previous client's throat. Meet the Zombies.
Now, Sarah and David are fighting for survival in the middle of the zombie
apocalypse. But, just because there are zombies, doesn't mean your other problems
go away. If the zombies don't eat their brains, they might just kill each
other.
Cold Magic
September-10 | 0-316-08085-3 | 978-0-316-08085-9 | TRADE PAPERBACK
From one of the genre's finest writers comes a bold new epic fantasy in which science and magic are locked in a deadly struggle.
It is the dawn of a new age… The Industrial Revolution has begun, factories are springing up across the country, and new technologies are transforming in the cities. But the old ways do not die easy.
Cat and Bee are part of this revolution. Young women at college, learning of the science that will shape their future and ignorant of the magics that rule their families. But all of that will change when the Cold Mages come for Cat. New dangers lurk around every corner and hidden threats menace her every move. If blood can't be trusted, who can you trust?
Transition
September-10 | 0-316-07199-4 | 978-0-316-07199-4 | TRADE PAPERBACK

There is a world that hangs suspended between triumph and catastrophe, between the dismantling of the Wall and the fall of the Twin Towers, frozen in the shadow of suicide terrorism and global financial collapse. Such a world requires a firm hand and a guiding light. But does it need the Concern: an all-powerful organization with a malevolent presiding genius, pervasive influence and numberless invisible operatives in possession of extraordinary powers?
Among those operatives are Temudjin Oh, of mysterious Mongolian origins, an un-killable assassin who journeys between the peaks of Nepal, a version of Victorian London and the dark palaces of Venice under snow; Adrian Cubbish, a restlessly greedy City trader; and a nameless, faceless state-sponsored torturer known only as the Philosopher, who moves between time zones with sinister ease. Then there are those who question the Concern: the bandit queen Mrs. Mulverhill, roaming the worlds recruiting rebels to her side; and Patient 8262, under sedation and feigning madness in a forgotten hospital ward, in hiding from a dirty past.
There is a world that needs help; but whether it needs the Concern is a different matter.
The Spirit Thief
October-10 | 0-316-06905-1 | 978-0-316-06905-2 | MASS MARKET
Eli Monpress is talented. He's charming. And he's a thief.But not just any thief. He's the greatest thief of the age – and he's also a wizard. And with the help of his partners – a swordsman with the most powerful magic sword in the world but no magical ability of his own, and a demonseed who can step through shadows and punch through walls – he's going to put his plan into effect.
The first step is to increase the size of the bounty on his head, so he'll need to steal some big things. But he'll start small for now. He'll just steal something that no one will miss – at least for a while.
Like a king.
The Hundred Thousand Kingdoms
October-10 | 0-316-04392-3 | 978-0-316-04392-2 | MASS MARKET
Yeine Darr is an outcast from the barbarian north. But when her mother dies under mysterious circumstances, she is summoned to the majestic city of Sky. There, to her shock, Yeine is named an heiress to the king. But the throne of the Hundred Thousand Kingdoms is not easily won, and Yeine is thrust into a vicious power struggle.
The Hundred Thousand Kingdoms is the debut novel from a major new voice in fantasy fiction.
The Rebel Prince
October-10 | 0-316-07707-0 | 978-0-316-07707-1 | TRADE PAPERBACK
Wynter Moorehawke has braved bandits and Loup-Garous to find her way to Alberon-the exiled, rebel prince. But now that she's there, she will learn firsthand that politics is a deadly mistress. With the king and his heir on the edge of war and alliances made with deadly enemies, the Kingdom is torn not just by civil war – but strife between the various factions as well. Wynter knows that no one has the answer to the problems that plague the Kingdom – and she knows that their differences will not just tear apart her friends – but the Kingdom as well.
Surface Detail
October-10 | 0-316-12340-4 | 978-0-316-12340-2 | HARDCOVER BOOK
It begins in the realm of the Real, where matter still matters.
It begins with a murder.
And it will not end until the Culture has gone to war with death itself.
Lededje Y'breq is one of the Intagliated, her marked body bearing witness to a family shame, her life belonging to a man whose lust for power is without limit. Prepared to risk everything for her freedom, her release, when it comes, is at a price, and to put things right she will need the help of the Culture.Benevolent, enlightened and almost infinitely resourceful though it may be, the Culture can only do so much for any individual. With the assistance of one of its most powerful – and arguably deranged – warships, Lededje finds herself heading into a combat zone not even sure which side the Culture is really on. A war – brutal, far-reaching – is already raging within the digital realms that store the souls of the dead, and it's about to erupt into reality.
It started in the realm of the Real and that is where it will end. It will touch countless lives and affect entire civilizations, but at the center of it all is a young woman whose need for revenge masks another motive altogether. SURFACE DETAIL is Iain M. Banks' new Culture novel, a breathtaking achievement from a writer whose body of work is without parallel in the modern history of science fiction.
Version 43
October-10 | 0-316-01894-5 | 978-0-316-01894-4 | TRADE PAPERBACK
The Exodus Universe.Your odds of surviving quantum teleportation are, more or less, fifty/fifty. The only ones crazy enough to try it are the desperate, the insane, and those sentenced to exile for their crimes.
Belladonna is home to the survivors of the fifty/fifty– and is therefore a planet run by criminals and thieves. But when a horrific and improbable murder catches the attention of the Galactic Police force, one cyborg cop — Version 43 — is sent to investigate.
Version 43 has been here before and has old friends and older enemies lying in wait. The cop was human once, but now, he is more program than man and will find a way to clean up this planet once and for all.
The Spirit Rebellion
November-10 | 0-316-06911-6 | 978-0-316-06911-3 | MASS MARKET
Eli Monpress is brilliant. He's incorrigible. And he's a thief.
He's also still at large, which drives Miranda Lyonette crazy. While she's been kicked out of the Spirit Court, Eli's had plenty of time to plan his next adventure. But now the tables have turned, because Miranda has a new job — and an opportunity to capture a certain thief.Things are about to get exciting for Eli. He's picked a winner for his newest heist. His target: the Duke of Gaol's famous 'thief-proof' citadel. Eli knows Gaol is a trap, but what's life without challenges? Except the Duke is one of the wealthiest men in the world, a wizard who rules his duchy with an iron fist, and an obsessive perfectionist with only one hobby: Eli.
It seems that everyone is hunting for Eli Monpress.
Heaven's Spite
November-10 | 0-316-07417-9 | 978-0-316-07417-9 | MASS MARKET
When a new hellbreed comes calling, playing nice isn't an option. Jill Kismet has no choice but to seek treacherous allies – Perry, the devil she knows, and Melisande Belisa, the cunning Sorrows temptress whose true loyalties are unknown.Kismet knows Perry and Belisa are likely playing for the same thing–her soul. It's just too bad, because she expects to beat them at their own game. Except their game is vengeance.
Nobody plays vengeance like Kismet. But if the revenge she seeks damns her, her enemies might get her soul after all…
The Broken Kingdoms
November-10 | 0-316-04396-6 | 978-0-316-04396-0 | TRADE PAPERBACK
In the city of Shadow, beneath the World Tree, alleyways shimmer with magic and godlings live hidden among mortalkind. Oree Shoth, a blind artist, takes in a strange homeless man on an impulse. This act of kindness engulfs Oree in a nightmarish conspiracy. Someone, somehow, is murdering godlings, leaving their desecrated bodies all over the city. And Oree's guest is at the heart of it. . .
Bitten in Two
November-10 | 0-316-04378-8 | 978-0-316-04378-6 | TRADE PAPERBACK
Jaz Parks here. I. Am. Pissed. Just as Vayl and I arrive in Morocco to secure an ancient artifact, he wakes up calling me by another woman's name. And it's not even a good one. But since any form of argument transforms him into an unholy terror, I'm forced to play along until the gang and I can figure out what kind of power has so vastly altered his perceptions.
So it's time for me to do what any well-trained assassin in my position might do. I attack. What follows is a hair-raising, breath-taking bullet train ride to the finish as the crew battles on multiple fronts. I now know what I have to do – I must return to hell one last time.
Hull Zero Three
November-10 | 0-316-07281-8 | 978-0-316-07281-6 | HARDCOVER BOOK

A starship hurtles through the emptiness of space. Its destination-unknown.
Its purpose-a mystery. Its history-lost. Now, one man wakes up. Ripped from
a dream of a new home-a new planet and the woman he was meant to love in his
arms — he finds himself, wet, naked, and freezing to death. The dark halls
are full of monsters but trusting other survivors he meets might be the greater
danger. All he has are questions– Who is he? Where are they going? What happened
to the dream of a new life? What happened to the woman he loved? What happened
to Hull 03? All will be answered, if he can survive. Uncover the mystery.
Fix the ship. Find a way home. HULL ZERO THREE is an edge of your seat thrill
ride through the darkest reaches of space.
December 2010
The Spirit Eater
December-10 | 0-316-06908-6 | 978-0-316-06908-3 | MASS MARKET
With the pressure on after his success in Gaol, Eli Monpress, professional thief and degenerate, decides it's time to lie low for a bit. Taking up residence in a tiny seaside village, Eli and his companions seize the chance for some fun and relaxation.
Nico, however, is finding it a bit hard. Plagued by a demon's voice in her head and feeling powerless, she only sees herself as a burden. Everyone's holiday comes to an untimely close, though, when Pele arrives to beg Eli's help for finding her missing father.
But there are larger plans afoot than even Eli can see, and the real danger, and the solution, may lie with one of his own and her forgotten past.
If only Nico could remember whose side she's on.
Law of the Broken Earth
December-10 | 0-316-07993-6 | 978-0-316-07993-8 | MASS MARKET
In Feierabiand, in the wide green Delta, far from the burning heat of the griffin's desert, Mienthe's peaceful life has been shaken. Tan – clever, cynical, and an experienced spy – has brought a deadly secret out of the neighboring country of Linularinum.
Now, as three countries and two species rush toward destruction, Mienthe fears that even her powerful cousin Bertaud may be neither able nor even willing to find a safe path between the secret Linularinum would kill to preserve and the desperate ferocity of the griffins. But can Mienthe?
And, in the end, will Tan help her . . . or do everything in his power to stand in her way?
The Bone Palace
December-10 | 0-316-06900-0 | 978-0-316-06900-7 | MASS MARKET
Death is no stranger in the city of Erisín– but some deaths attract more attention than others.
When a prostitute dies carrying a royal signet, Isyllt Iskaldur, necromancer and agent of the Crown, is called to investigate. Her search leads to desecrated tombs below the palace, and the lightless vaults of the vampiric vrykoloi deep beneath the city. But worse things than vampires are plotting in Erisín…As a sorcerous plague sweeps the city and demons stalk the streets, Isyllt must decide who she's prepared to betray, before the city built on bones falls into blood and fire.
The Castings Trilogy
December-10 | 0-316-10285-7 | 978-0-316-10285-8 | TRADE PAPERBACK

A thousand years ago, the Eleven Domains were invaded and the original inhabitants were driven onto the road as Travelers, belonging nowhere, welcomed by no one.
Now the Domains are governed with an iron fist by the Warlords, but there are wilder elements in the landscape that cannot be controlled and that may prove the Warlords' undoing. Some are spirits of place – of water and air and fire and earth. Some are greater than these. And some are human.
Bramble: A village girl whom no one living can tame, forced to flee her home for a crime she did not commit.
Ash: A safeguarder's apprentice who must kill for an employer he cannot escape.
Saker: An enchanter who will not rest until the land is returned to his people.
As their three stories unfold, along with the stories of those whose lives they touch, it becomes clear that they are bound together in ways that not even a stonecaster could have foreseen – by their past, their future, and their blood.
This omnibus edition includes all three novels – Blood Ties, Deep Water, and Full Circle – together for the first time.
January 2011
Tempest's Legacy
January-11 | 0-316-05660-X | 978-0-316-05660-1 | MASS MARKET
After a peaceful hiatus at home in Rockabill, Jane True thinks that her worst problem is that she still throws like a girl – at least while throwing fireballs. Her peace of mind ends, however, when Anyan arrives one night with terrible news . . . news that will rock Jane's world to its very core.
After demanding to help investigate a series of gruesome attacks on females — supernatural, halfling, and human — Jane quickly finds herself forced to confront her darkest nightmares as well as her deepest desires.
And she's not sure which she finds more frightening.
Managing Death
January-11 | 0-316-07798-4 | 978-0-316-07798-9 | MASS MARKET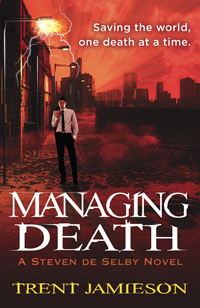 It's not easy being Death. For starters, people keep dying. And then, they keep getting up again.Steven de Selby got promoted. This makes the increasing number of stirrers (and the disturbing rumors of a zombie god rising sometime soon) his problem. That time management seminar he keeps meaning to take would also remind him that he's got a Death Moot to plan, a Christmas party to organize, and an end-of-the-world thing to avert.
Steven must start managing Death, before Death starts managing him, or this time the Apocalypse will be more than Regional.
Flip this Zombie
January-11 | 0-316-10295-4 | 978-0-316-10295-7 | MASS MARKET
The Zombie Apocalypse has been good to Sarah and David. Their marriage is better than ever. They communicate well, share responsibilities, and now, they're starting a business. ZombieBusters-for all your zombie extermination needs.
There are lots of zombies and that means lots of customers…
Except one of them doesn't want the zombies dead, he wants them alive and ready for experimentation. Mad scientists make for difficult clients and this time, Sarah and David might have bitten off more than they can chew.
The Hammer
January-11 | 0-316-03856-3 | 978-0-316-03856-0 | TRADE PAPERBACK
The colony was founded seventy years ago. The plan was originally to mine silver, but there turned out not to be any.
Now an uneasy peace exists on the island, between the colonists and the once-noble met'Oc, a family in exile on a remote stronghold for their role in a vaguely remembered civil war. The met'Oc are tolerated, in spite of occasional cattle stealing raids, since they alone possess the weapons considered necessary protection in the event of the island's savages becoming hostile.
Gignomai is the youngest brother in the current generation of met'Oc. And he is about to provide the spark that will ignite a brutal and bloody war.
The Fallen Blade
January-11 | 0-316-07439-X | 978-0-316-07439-1 | TRADE PAPERBACK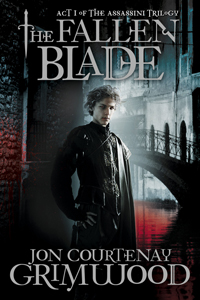 In the depths of night, customs officers board a galley in a harbor and overpower its guards. In the hold they find oil and silver, and a naked boy chained to the bulkhead. Stunningly beautiful but half-starved, the boy has no name. The officers break the boy's chains to rescue him, but he escapes.
Venice is at the height of its power. Duke Marco commands the seas, taxes his colonies, and, like every duke before him, fears assassins better than his own. In a side chapel, Marco's thirteen-year old cousin prays for deliverance from her forced marriage. It is her bad fortune to be there when Moorish pirates break in to steal a chalice, but it is the Moors' good fortune – they kidnap her and demand ransom from the Duke.
As day dawns, Atilo, the Duke's chief assassin, prepares to kill the man who let in the pirates. Having cut the traitor's throat, he turns back, having heard a noise, and finds a stranger crouched over the dying man, drinking blood from the wound. The speed with which the boy dodges a dagger and scales a pillar stuns Atilo. And the assassin knows he has to find the boy. Not to kill him though – because he's finally found what he thought he would never find.
Someone fit to be his apprentice.
February 2011
The Midnight Mayor
February-11 | 0-316-07990-1 | 978-0-316-07990-7 | MASS MARKET
It's said that if the ravens ever leave the Tower of London, then the Tower will crumble and the kingdom will fall. Resurrected sorcerer Matthew Swift is about to discover that this isn't so far from the truth…
One by one, the protective magical wards that guard the city are falling. This is not good news. This array of supernatural defenses – a mix of international tourist attractions and forgotten urban legends – formed a formidable shield that protects the city of London from threats that are known to no one. But what could be so dangerous as to threaten an entire city?
Matthew Swift is about to find out. And if he's lucky, he might just live long enough to do something about it…
The Sworn
February-11 | 0-316-09357-2 | 978-0-316-09357-6 | MASS MARKET
Summoner-King Martris Drayke must attempt to meet this great threat, gathering an army from a country ravaged by civil war. Tris seeks new allies from among the living – and the dead – as an untested generation of rulers face their first battle. Meanwhile, the legendary Dread are stirring in their burrows after millennia of silence and no one knows what hand wakes them and whom they will serve when they rise.
Now, Drayke turns to the Sworn, a nomadic clan of warriors bound to protect the Dread. But even the mighty Sworn do not know what will happen when the Dread awake. All are certain, though, that war is coming to the Winter Kingdoms.
THE SWORN is the beginning of a new adventure set in the world of The Chronicles of the Necromancer.
The Heroes
February-11 | 0-316-04498-9 | 978-0-316-04498-1 | HARDCOVER BOOK
They say Black Dow's killed more men than winter, and clawed his way to the throne of the North up a hill of skulls. The King of the Union, ever a jealous neighbour, is not about to stand smiling by while he claws his way any higher. The orders have been given and the armies are toiling through the northern mud. Thousands of men are converging on a forgotten ring of stones, on a worthless hill, in an unimportant valley, and they've brought a lot of sharpened metal with them.
Bremer dan Gorst, disgraced master swordsman, has sworn to reclaim his stolen honour on the battlefield. Obsessed with redemption and addicted to violence, he's far past caring how much blood gets spilled in the attempt. Even if it's his own.
Prince Calder isn't interested in honour, and still less in getting himself killed. All he wants is power, and he'll tell any lie, use any trick, and betray any friend to get it. Just as long as he doesn't have to fight for it himself.
Curnden Craw, the last honest man in the North, has gained nothing from a life of warfare but swollen knees and frayed nerves. He hardly even cares who wins any more, he just wants to do the right thing. But can he even tell what that is with the world burning down around him?
Over three bloody days of battle, the fate of the North will be decided. But with both sides riddled by intrigues, follies, feuds and petty jealousies, it is unlikely to be the noblest hearts, or even the strongest arms that prevail…
Three men. One battle. No Heroes.
Deep State
February-11 | 0-316-09804-3 | 978-0-316-09804-5 | TRADE PAPERBACK
Dagmar Shaw is back at it again. She is the Puppetmaster and this time thousands of gamers are dancing on her strings. But when the game she is running in Turkey comes into conflict with the new, brutal regime, she realizes that games have consequences.
When an old friend approaches Dagmar with a project so insane, so ambitious, she can't possibly say no, she is plunged into a world of spies and soldiers. Dagmar is a Puppetmaster, but when the bullets are real and her 'puppets' start dying, is any cause worth it? A nation hangs in the balance and in a world of intrigue and betrayal, Dagmar needs to figure out just what part she plays.
Life, Liberty, and the Pursuit of Sausages
February-11 | 0-316-08002-0 | 978-0-316-08002-6 | TRADE PAPERBACK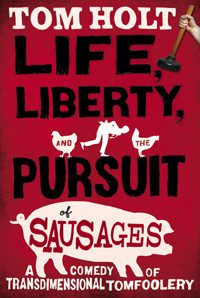 Tom Holt is back with a hilarious tale of magic, real estate, and a very important pig.
Polly is a real estate solicitor. She is also losing her mind. Someone keeps drinking her coffee. And talking to her clients. And doing her job. And when she goes to the dry cleaner's to pick up her dress for the party,
it's not there. Not the dress – the dry cleaner's. And then there are the chickens who think they are people. Something strange is definitely going on – and it's going to take more than a magical ring to sort it out.
March 2011
Green-Eyed Demon
March-11 | 0-316-03777-X | 978-0-316-03777-8 | MASS MARKET
Things to do:
1. Rescue sister.
2. Murder grandmother.
3. Don't upset the voodoo priestess.
The clock is ticking for Sabina Kane. Her sister has been kidnapped by her grandmother, the Dark Races are on the brink of war, and a mysterious order is manipulating everyone behind the scenes.Working on information provided by an unlikely ally, Sabina and her trusty sidekicks–a sexy mage named Adam Lazarus and Giguhl, a Mischief demon–head to New Orleans to begin the hunt for her sister. Once there, they must contend with belligerent werewolves, magic-wielding vampires and–perhaps most frightening of all–humans.
But as much as Sabina is focused on surviving the present, the past won't be ignored. Before she can save those she cares about most, she must save herself from the ghosts of her past.
Dante Valentine
March-11 | 0-316-10196-6 | 978-0-316-10196-7 | TRADE PAPERBACK
Necromancer. Bounty hunter. Killer. Dante Valentine has been all three in her life. But in the beginning, she was a Necromancer for hire. And while she was choosy about her jobs, there are just some you can't turn down. Like when the Devil shows up at the door and offers her a deal. Her life – in exchange for the capture and elimination of a renegade demon. It's an offer she can't refuse. But how do you kill something that can't die? Dante Valentine, one of urban fantasy's hottest heroines, is compiled into one volume for the first time. Included in this omnibus edition are: Working for the Devil, Dead Man Rising, The Devil's Right Hand, Saint City Sinners, and To Hell and Back
The Neon Court
March-11 | 0-316-09364-5 | 978-0-316-09364-4 | HARDCOVER BOOK
War is coming to London. A daimyo of the Neon Court is dead and all fingers point towards their ancient enemy – The Tribe. And when magicians go to war, everyone loses.
But Matthew Swift has his own concerns. He has been summoned abruptly, body and soul, to a burning tower and to the dead body of Oda, warrior of The Order and known associate of Swift. There's a hole in her heart and the symbol of the Midnight Mayor drawn in her own blood. Except, she is still walking and talking and has a nasty habit of saying 'we' when she means 'I.'Now, Swift faces the longest night of his life. Lady Neon herself is coming to London and the Tribe is ready to fight. At the heart of it all is a rumor of a 'chosen one,' a monster that burns out the eyes of all who look at it, and a walking dead woman. Swift must stop a war, protect his city, and save his friend – if she'll stop trying to kill him long enough for him to try.
The Enterprise of Death
March-11 | 0-316-08734-3 | 978-0-316-08734-6 | TRADE PAPERBACK
As the witch-pyres of the Spanish Inquisition blanket Renaissance Europe in a moral haze, a young African slave finds herself the unwilling apprentice of an ancient necromancer. Unfortunately, quitting his company proves even more hazardous than remaining his pupil when she is afflicted with a terrible curse. Yet salvation may lie in a mysterious tome her tutor has hidden somewhere on the war-torn continent. She sets out on a seemingly impossible journey to find the book, never suspecting her fate is tied to three strangers: the artist Niklaus Manuel Deutsch, the alchemist Dr. Paracelsus, and a gun-slinging Dutch mercenary. As Manuel paints her macabre story on canvas, plank, and church wall, the apprentice becomes increasingly aware of the great dangers that surround her. She realizes she must revisit the fell necromancy of her childhood – or death will be the least of her concerns.