Below you'll find Orbit's Fall/Winter list for 2011-2012 in the US.
September 2011
The Black Prism
Lightbringer #1
Sep-11 | 978-0-316-06813-0 | MASS MARKET
Guile is the Prism, the most powerful man in the world. He is high priest and emperor, a man whose power, wit, and charm are all that preserves a tenuous peace. Yet Prisms never last, and Guile knows exactly how long he has left to live.
When Guile discovers he has a son, born in a far kingdom after the war that put him in power, he must decide how much he's willing to pay to protect a secret that could tear his world apart.
The Broken Kingdoms
The Inherritance Trilogy #2
Sep-11 | 978-0-316-04395-3 | MASS MARKET
In the city of Shadow, beneath the World Tree, alleyways shimmer with magic and godlings live hidden among mortalkind. Oree Shoth, a blind artist, takes in a strange homeless man on an impulse. This act of kindness engulfs Oree in a nightmarish conspiracy. Someone, somehow, is murdering godlings, leaving their desecrated bodies all over the city. And Oree's guest is at the heart of it…
The Business of Death
The Death Works Trilogy
Sep-11 | 978-0-316-07801-6 | TRADE PAPERBACK
Steven de Selby has a hangover. Bright lights, loud noise, and lots of exercise are the last thing he wants. But that's exactly what he gets when someone starts shooting at him.
Steven is no stranger to death – Mr. D's his boss after all – but when a dead girl saves him from sharing her fate, he finds himself on the wrong end of the barrel. His job is to guide the restless dead to the underworld but now his clients are his own colleagues, friends, and family.
Mr. D's gone missing and with no one in charge, the dead start to rise, the living are hunted, and the whole city teeters on the brink of a regional apocalypse – unless Steven can shake his hangover, not fall for the dead girl, and find out what happened to his boss – that is, Death himself.
THE BUSINESS OF DEATH includes the first two volumes of the Death Works trilogy, Death Most Definite and Managing Death, as well as the third volume.
Cold Fire
The Spiritwalker Trilogy #3
Sep-11 | 978-0-316-08099-6 | TRADE PAPERBACK
Cat Barahal and her beloved cousin Bee think they have reached a safe place to shelter. But the Cold Mages who are conspiring to take them prisoner are closing in.
The warlord who hopes to conquer all Europa is convinced their destiny is to aid him, whether they want to or not. And the man Cat was forced to marry is back, as vainly arrogant and annoyingly handsome as ever. Worst of all, as Hallows' Night approaches, powers hidden deep within the spirit world are rising. Cat must seek allies against these threats and figure out who to trust, for if she makes the wrong choices, she'll lose everything.
Only one thing is certain. When Hallows' Night comes the Wild Hunt will ride – and it feeds on mortal blood.
October 2011
Blood Rights
House of Commaré #1
Oct-11 | 978-0-316-08477-2 | MASS MARKET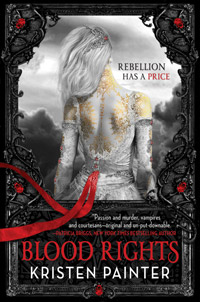 Born into a life of secrets and service, Chrysabelle's body bears the telltale marks of a comarré — a special race of humans bred to feed vampire nobility. When her patron is murdered, she becomes the prime suspect, which sends her running into the mortal world…and into the arms of Malkolm, an outcast vampire cursed to kill every being from whom he drinks.
Now, Chrysabelle and Malkolm must work together to stop a plot to merge the mortal and supernatural worlds. If they fail, a chaos unlike anything anyone has ever seen will threaten to reign.
Hull Zero Three
Oct-11 | 978-0-316-07280-9 | TRADE PAPERBACK
A starship hurtles through the emptiness of space. Its destination – unknown. Its purpose – a mystery.
Now, one man wakes up. Ripped from a dream of a new home he finds himself wet, naked, and freezing to death. The dark halls are full of monsters but trusting other survivors he meets might be the greater danger.
All he has are questions — Who is he? Where are they going? What happened to the dream of a new life? What happened to Hull 03?
The Heroes
Oct-11 | 978-0-316-19356-6 | TRADE PAPERBACK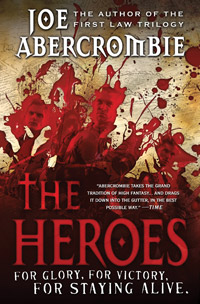 They say Black Dow's killed more men than winter, and clawed his way to the throne of the North up a hill of skulls. The King of the Union, ever a jealous neighbor, is not about to stand smiling by while he claws his way any higher. The orders have been given and the armies are toiling through the northern mud. Thousands of men are converging on a forgotten ring of stones, on a worthless hill, in an unimportant valley, and they've brought a lot of sharpened metal with them.
Bremer dan Gorst, disgraced master swordsman, has sworn to reclaim his stolen honor on the battlefield. Obsessed with redemption and addicted to violence, he's far past caring how much blood gets spilled in the attempt. Even if it's his own.
Prince Calder isn't interested in honor, and still less in getting himself killed. All he wants is power, and he'll tell any lie, use any trick, and betray any friend to get it. Just as long as he doesn't have to fight for it himself.
Curnden Craw, the last honest man in the North, has gained nothing from a life of warfare but swollen knees and frayed nerves. He hardly even cares who wins any more, he just wants to do the right thing. But can he even tell what that is with the world burning down around him? Over three bloody days of battle, the fate of the North will be decided. But with both sides riddled by intrigues, follies, feuds and petty jealousies, it is unlikely to be the noblest hearts, or even the strongest arms that prevail…
Three men. One battle. No Heroes.
The Kingdom of Gods
The Inheritance Trilogy #3
Oct-11 | 978-0-316-04393-9 | TRADE PAPERBACK
The incredible conclusion to the Inheritance Trilogy, from one of fantasy's most acclaimed stars.
For two thousand years the Arameri family has ruled the world by enslaving the very gods that created mortalkind. Now the gods are free, and the Arameri's ruthless grip is slipping. Yet they are all that stands between peace and world-spanning, unending war.Shahar, last scion of the family, must choose her loyalties. She yearns to trust Sieh, the godling she loves. Yet her duty as Arameri heir is to uphold the family's interests, even if that means using and destroying everyone she cares for.
As long-suppressed rage and terrible new magics consume the world, the Maelstrom — which even gods fear — is summoned forth. Shahar and Sieh: mortal and god, lovers and enemies. Can they stand together against the chaos that threatens?
Includes a never before seen story set in the world of the Inheritance Trilogy.
November 2011
Flesh and Blood
House of Comarré #2
Nov-11 | 978-0-316-08476-5 | MASS MARKET
With the ring of sorrows still missing, and the covenant between othernaturals and mortals broken, Chrysabelle and Malkolm's problems are just beginning. Chrysabelle still owes Malkolm for his help, but fulfilling that debt means returning to Corvinestri, the hidden vampire city neither of them is welcome in.
The discovery that Chrysabelle has a brother could mean reneging on her promise to Malkolm, something that might make him angry enough to loose the beast living inside him. And fulfilling her vow could prove devastating for Chrysabelle — especially when you throw in power hungry witches, dead fringe vampires, and the Kubai Mata.
The Neon Court
Matthew Swift #3
Nov-11 | 978-0-316-09365-1 | MASS MARKET
A daimyo of the Neon Court is dead and all fingers point towards their ancient enemy – The Tribe. And when magicians go to war, everyone loses.
But Matthew Swift has his own concerns. He has been summoned abruptly, body and soul, to a burning tower and to the dead body of Oda, warrior of The Order and known associate of Swift. There's a hole in her heart and the symbol of the Midnight Mayor drawn in her own blood. Except, she is still walking and talking and has a nasty habit of saying 'we' when she means 'I.'
Now, Swift faces the longest night of his life. Lady Neon herself is coming to London and the Tribe is ready to fight. Strange things stalk this night: a rumored 'chosen one,' a monster that burns out the eyes of its enemies, and a walking dead woman. Swift must stop a war, protect his city, and save his friend – if she'll stop trying to kill him long enough for him to try.
Angel Town
Jill Kismet #6
Nov-11 | 978-0-316-07416-2 | MASS MARKET
Jill Kismet is back from the grave in this explosive conclusion to Lilith Saintcrow's urban fantasy series.
She wakes up in her own grave. She doesn't know who put her there, she doesn't know where she is, and she has no friends or family.
She only knows two things: She has a job to do: cleansing the night of evil. And she knows her name.
Jill Kismet.
The Revenge of the Dwarves
The Dwarves #3
Nov-11 | 978-0-316-10283-4 | TRADE PAPERBACK

For countless millennia, the dwarves of the Fifthling Kingdom have defended the stone gateway into Girdlegard. Many and varied foes have hurled themselves against the portal and died attempting to breach it. No man or beast has ever succeeded. Until now. . .
Abandoned as a child, Tungdil the blacksmith labors contentedly in the land of Ionandar, the only dwarf in a kingdom of men. Although he does not want for friends, Tungdil is very much aware that he is alone – indeed, he has not so much as set eyes on another dwarf. But all that is about to change.
Sent out into the world to deliver a message and reacquaint himself with his people, the young foundling finds himself thrust into a battle for which he has not been trained. Not only his own safety, but the life of every man, woman and child in Girdlegard depends upon his ability to embrace his heritage. Although he has many unanswered questions, Tungdil is certain of one thing: no matter where he was raised, he is a true dwarf.
And no one has ever questioned the courage of the Dwarves.
The Griffin Mage
Nov-11 | 978-0-316-19354-2 | TRADE PAPERBACK
Now, complete in one volume.
Little ever happens in the quiet villages of peaceful Feierabiand. The course of Kes' life seems set: she'll grow up to be an herb-woman and healer for the village of Minas Ford, never quite fitting in but always more or less accepted. And she's content with that path — or she thinks she is. Until the day the griffins come down from the mountains, bringing with them the fiery wind of their desert and a desperate need for a healer. But what the griffins need is a healer who is not quite human . . . or a healer who can be made into something not quite human.
This omnibus edition contains the complete Griffin Mage trilogy: Lord of the Changing Wind, Land of the Burning Sands and Law of the Broken Earth.
Theft of Swords
Riyria Revelations #1
Nov-11 | 978-0-316-18774-9 | TRADE PAPERBACK
Royce Melborn, a skilled thief, and his mercenary partner, Hadrian Blackwater, make a profitable living carrying out dangerous assignments for conspiring nobles-until they are hired to pilfer a famed sword. What appears to be just a simple job finds them framed for the murder of the king and trapped in a conspiracy that uncovers a plot far greater than the mere overthrow of a tiny kingdom. Can a self-serving thief and an idealistic swordsman survive long enough to unravel the first part of an ancient mystery that has toppled kings and destroyed empires in order to keep a secret too terrible for the world to know? And so begins the first tale of treachery and adventure, sword fighting and magic, myth and legend.
When author Michael J. Sullivan self-published the first books of his Riyria Revelations, they rapidly became ebook bestsellers. Now, Orbit is pleased to present the complete series for the first time in bookstores everywhere. Theft of Swords was originally published as: The Crown Conspiracy and Avempartha. You can find our more about The Riyria Revelations on the official Facebook page.
December 2011
Bad Blood
House of Comarré #2
Dec-11 | 978-0-316-08475-8 | MASS MARKET
Samhain approaches, bringing with it the final melding of the mortal and othernatural worlds. No one knows just how much power the night holds…Violent murders occur in Paradise City as counterfeit comarré are systematically hunted. The police and the Kubai Mata have more than enough trouble to keep themselves occupied. As war erupts at home, Malkolm and Chrysabelle head to New Orleans to recover the Ring of Sorrows. Chrysabelle is forced to make a life and death decision and will realize that her relationship to Malkolm may have fatal consequences.
The clock is ticking . . .
Artemis
Dec-11 | 978-0-316-12514-7 | TRADE PAPERBACK
Artemis McIvor is a thief, a con-artist, and a stone cold killer. And she's been on a crime-spree for, well, for years. The galactic government has collapsed and the universe was hers for the taking.
But when the cops finally catch up with her, they give Artemis a choice. Suffer in prison for the rest of her very long life, or join a crew of criminals, murderers, and traitors on a desperate mission to save humanity against an all-consuming threat.
Now, Artemis has to figure out how to be a good guy without forgetting who she really is.
Rise of Empire
Riyria Revelations #2
Michael J. Sullivan
Dec-11 | 978-0-316-18770-1 | TRADE PAPERBACK
The adventure continues as Royce and Hadrian aid the struggling kingdom of Melengar as it alone stands in defiance against the newly formed empire. War approaches and a desperate gamble behind enemy lines is their only chance at forming an alliance with the Nationalists to the south. But Royce has plans of his own as he uses this opportunity to discover if an ancient wizard is using Riyria as pawns in his own bid for power. To find the truth, Royce must unravel Hadrian's hidden past. What he discovers will lead them to the end of the known world, on a journey rife with treachery and intrigue.
When author Michael J. Sullivan self-published the first books of his Riyria Revelations, they rapidly became ebook bestsellers. Now, Orbit is pleased to present the complete series for the first time in bookstores everywhere. Rise of Empire was originally published as: Nyphron Rising and The Emerald Storm.
January 2012
Silver-Tongued Devil
Sabina Kane #4
Jan-1 | 978-0-316-17843-3 | MASS MARKET
Now that the threat of war has passed, Sabina Kane is ready to focus on the future. Her relationship with Adam Lazarus is getting stronger and she's helping her sister, Maisie, overcome the trauma of her captivity in New Orleans. Even Giguhl is managing to stay out of trouble thanks to the arrival of Pussy Willow and his new roller derby team. But as much as Sabina wants to feel hopeful about the future, part of her doesn't believe that peace is possible.
Her suspicions are confirmed when a string of sadistic murders threatens to stall treaty negotiations between the mages and the vampires. Sabina pitches in to find the killer, but her investigation soon leads her down dark paths that have her questioning everyone she thought she could trust. And the closer she gets to the killer, the more Sabina begins to suspect this is one foe she may not be able to kill.
Seven Princes
Books of the Shaper #1
John R. Fultz
Jan-0 | 978-0-316-18786-2 | TRADE PAPERBACK
An Age of Legends
An ancient sorcerer threatens the balance of the Five Kingdoms. He arrives, unannounced, to slaughter the court of the King of Yaskatha. Only Prince D'zan and his bodyguard survive the horrors as the dead walk and the blood runs.
An Age of Heroes
Now, D'zan must call upon his father's allies to reclaim his throne. Seven Princes from across all the lands– the three sons of the Giant King Vod, the Princes of Uurz — a natural leader of men and his brother, the scholar – and the war-like Andoses, heir to the throne of Shar Dni. Each are loyal to their own cause and each has their own destiny.
An Age of War
But not all destinies are legend. Some will fight. Some will fall. Some will rise. One thing is certain– war is coming. Princes will clash and blood will run.
Heir of Novron
Riyria Revelations #3
Jan-31 | 978-0-316-18771-8 | TRADE PAPERBACK
The New Empire intends to mark its victory over the Nationalists with a bloody celebration. On the high holiday of Wintertide, the Witch of Melengar will be burned and the Heir of Novron executed. On that same day the Empress faces a forced marriage, with a fatal accident soon follow. The New Empire is confident in the totality of its triumph but there's just one problem-Royce and Hadrian have finally found the true Heir of Novron–and they have their own holiday plans.
When author Michael J. Sullivan self-published the first books of his Riyria Revelations series online, they rapidly became ebook bestsellers. Now, Orbit is pleased to present the complete series for the first time in bookstores everywhere. The Heir of Novron is the final volume of The Ririya Revelations and includes Wintertide and –available for the first time– the final volume, Percepliquis
February 2012
Chasing the Moon
A. Lee Martinez
Feb-1 | 978-0-316-09356-9 | MASS MARKET
Diana's life was in a rut — she hated her job, she was perpetually single, and she needed a place to live. But then the perfect apartment came along. It seemed too good to be true — because it was.The apartment was already inhabited — by monsters. Vom the Hungering was the first to greet Diana and to warn her that his sole purpose in life was to eat everything in his path. This poses a problem for Diana since she's in his path…and is forbidden from ever leaving the apartment.
It turns out though that there are older and more ancient monstrous entities afoot — ones who want to devour the moon and destroy the world as we know it. Can Diana, Vom, and the other horrors stop this from happening? Maybe if they can get Vom to stop eating everything…and everyone.
The Dread
The Fallen Kings Cycle #2
Gail Z. Martin
Feb-1 | 978-0-316-09361-3 | MASS MARKET
THE DREAD is the epic conclusion to The Fallen Kings Cycle.
Summoner-King Tris Drayke takes what remains of the Margolan army north to fight a war Margolan is ill-prepared to fight, as reports from spies confirm Tris' worst fear. A new threat rises across the sea: a dark summoner who intends to make the most of the Winter Kingdoms' weakness.
And in Isencroft, King Donelan is assassinated and Tris's wife, Kiara, will now have no choice except to return and claim the crown. But the dark summoner's agents will go to any length to prevent her from reaching her goal.
Kiara and Tris must discover the truth behind the dark summoner, the mysterious power surrounding their infant son, and face the awesome power of the Dread as they rise from their burrows for the first time in over a millennium.
The Fourth Wall
Walter Jon Williams
Feb-13 | 978-0-316-13339-5 | TRADE PAPERBACK
Dagmar Shaw got out of the game… and into the movies.
Sean is a washed-up child actor reduced to the lowest dregs of reality television to keep himself afloat. His life was a downward spiral of alcoholism, regret, and failure… until he met Dagmar.
Except Sean has secrets, dark even for the Hollywood treadmill of abuse, addiction, and rehab. And Dagmar is a cipher. There are dark rumors about her past, the places she's been, the things she was involved in. People tend to die around her and now, she wants Sean for something. A movie, she says, but with her history, who's to say what her real game is?
The Troupe
Robert Jackson Bennett
Feb-21 | 978-0-316-18752-7 | TRADE PAPERBACK
George Carole ran away from home to join the Vaudeville circuit. Sixteen years old, uncommonly gifted at the piano, he falls in with a strange troupe — even for Vaudeville.
Under the watchful eye of the enigmatic figure of Silenus, George comes to realize that the members of the troupe are more than they appear to be. And their travels have a purpose that runs deeper than entertainment.
George must uncover the mysteries of Silenus's Company before it is too late. He is already entangled in their web of secrets and if he doesn't learn where they are taking him, he may never find his way out.
The Legend of Eli Monpress
Rachel Aaron
Feb-24 | 978-0-316-19357-3 | TRADE PAPERBACK
Eli Monpress is talented. He's charming. And he's a thief.
But not just any thief. He's the greatest thief of the age — and he's also a wizard. And with the help of his partners –a swordsman with the most powerful magic sword in the world but no magical ability of his own, and a demonseed who can step through shadows and punch through walls — he's going to put his plan into effect.
The first step is to increase the size of the bounty on his head, so he'll need to steal some big things. But he'll start small for now. He'll just steal something that no one will miss — at least for a while.
Like a king.
The Legend of Eli Monpress includes the novels: The Spirit Thief, The Sprit Rebellion, and The Spirit Eater
March 2012
Exogene
T.C. McCarthy
Mar-1 | 978-0-316-12815-5 | MASS MARKET
Exogene (n.): factor or agent (as a disease-producing organism) from outside the organism or system. Also: classified Russian program to merge proto-humanoids with powered armor systems (slang).
Catherine is a soldier. Fast, strong, lethal, she is the ultimate in military technology. She's a monster in the body of an eighteen year old girl. Bred by scientists, grown in vats, indoctrinated by the government, she and her sisters will win this war, no matter the cost.
And the costs are high. Their life span is short; as they age they become unstable and they undergo a process called the spoiling. On their eighteenth birthday they are discharged. Lined up and shot like cattle.
But the truth is, Catherine and her sisters may not be strictly human, but they're not animals. Catherine may have only known death, but she dreams of life and she will get it at any cost.
The Minority Council
Matthew Swift #4
Kate Griffin
Mar-12 | 978-0-316-18725-1 | MASS MARKET
Matthew Swift, sorcerer, Midnight Mayor, is in charge. Or so he'd like to think. And London, being London, is having its issues. Drug use is rampant. Teenage vandalism is driving away business. Violent crimes are on the rise. Once upon a time, Matthew Swift wouldn't have given a toss, now it's his mess to clean up.
Especially when the new drug on the market is fairy dust and the production process involves turning humans into walking drug labs. And when the teenage vandals are being hunted by a mystical creature. And when the petty criminals of London start dying by magical means.
It becomes clear that not only is this Swift's mess to clean up, someone is trying to tell him how to do his job. Now, he has to sort out who's behind the crime wave and who's interfering in his business. Swift has a lot of old enemies and few friends. If he's going to save London, much less himself, from a rising tide of blood, he's going to have to learn his lessons and fast.
Timeless
The Parasol Protectorate #5
Gail Carriger
Mar-1 | 978-0-316-12718-9 | MASS MARKET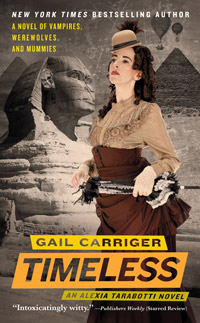 Alexia Tarabotti, Lady Maccon, has settled into domestic bliss. Of course, being Alexia, such bliss involves integrating werewolves into London High society, living in a vampire's second best closet, and coping with a precocious toddler who is prone to turning supernatural willy-nilly. Even Ivy Tunstell's acting troupe's latest play, disastrous to say the least, cannot put a damper on Alexia's enjoyment of her new London lifestyle.
Until, that is, she receives a summons from Alexandria that cannot be ignored. With husband, child, and Tunstells in tow, Alexia boards a steamer to cross the Mediterranean. But Egypt may hold more mysteries than even the indomitable Lady Maccon can handle. What does the vampire Queen of the Alexandria Hive really want from her? Why is the God-Breaker Plague suddenly expanding? And how has Ivy Tunstell suddenly become the most popular actress in all the British Empire?
Kingdoms of Dust
The Necormancer Chronicles #3
Amanda Downum
Mar-1 | 978-0-316-06898-7 | MASS MARKET
With her master dead and her oaths foresworn, necromancer and spy Isyllt Iskaldur finds herself in exile. Hounded by assassins, she seeks asylum in Assar, the empire she so recently worked to undermine.Warlords threaten the empire's fragile peace, and the empress is beset by enemies within the court. Even worse, darkness stirs in the deep desert. Ancient spirits long held captive are waking — spirits that can destroy Assar faster than any army.
Accompanied by an outcast jinn, Isyllt must travel into the heart of the desert to lay the darkness there to rest once more. But her sympathies are torn between the captive spirits and the order of mages sworn to bind them. And whichever choice she makes could raze the empire to dust.
Emperor Mollusk vs. The Sinister Brain
A. Lee Martinez
Mar-5 | 978-0-316-09352-1 | HARDCOVER BOOK
Emperor Mollusk. Intergalactic Menace. Destroyer of Worlds. Conqueror of Other Worlds. Mad Genius. Ex-Warlord of Earth. Not bad for a guy without a spine.
But what's a villain to do after he's done . . . everything. With no new ambitions, he's happy to pitch in and solve the energy crisis or repel aliens invaders should the need arise, but if he had his way, he'd prefer to be left alone to explore the boundaries of dangerous science. Just as a hobby, of course. Retirement isn't easy though. If the boredom doesn't get him, there's always the Venusians. Or the Saturnites. Or the Mercurials. Or . . . well, you get the idea. If that wasn't bad enough, there's also the assassins of a legendary death cult and an up-and-coming megalomaniac (as brilliant as he is bodiless) who have marked Emperor for their own nefarious purposes. But Mollusk isn't about to let the Earth slip out of his own tentacles and into the less capable clutches of another.
So it's time to dust off the old death ray and come out of retirement. Except
this time, he's not out to rule the world. He's out to save it from the peril
of THE SINISTER BRAIN!
The Outcast Blade
March-12 | 978-0-316-07442-1 | TRADE PAPERBACK
As the Byzantine and German emperors plot war against each other, Venice's future rests in the hands of three unwilling people:
The newly knighted Sir Tycho. An ex-slave and trained assassin who defeated the Mamluk navy but cannot make the woman he loves love him back. Tortured by secrets, afraid of the daylight, he sees no reason to save a city he hates.
The grieving Lady Giulietta. Impossibly rich, deeply spoilt. A virgin, a mother, a widow… Both emperors want her hand for their sons in marriage. All she wants is to retire from the poisonous world of the Venetian court to mourn her husband in peace.
And finally a naked, mud-strewn girl who crawls from a paupers' grave on an island in the Venetian lagoon and begins by killing the men who buried her.
All love affairs are complicated at times but on this one hangs the fate of Europe's richest city and two empires…