Winterbirth
September 2007 | ISBN: 0316067695, 9780316067690 | Fantasy | Trade Paperback
It is a godless world. As the third age dawns, the truce that has held for a generation will be broken. The armies of the Black Road are on the march. On the battlefield old hatreds will reemerge, new loyalties will be forged, and all will fall under the shadow that is descending. This winter, the snow will run red with blood.

The Electric Church
September 2007| ISBN: 0316021725, 9780316021722 | Science Fiction | Trade Paperback
Avery Cates is a very bad man. Some would call him a criminal. He might even be a killer—for the right price. But right now, Avery Cates is scared. Because he's up against the Monks: cyborgs with human brains, enhanced robotic bodies, and a small arsenal of advanced weaponry. Their mission is to convert anyone and everyone to the Electric Church. But there is just one snag. Conversion means death.
The Dante Valentine Series
The Devil's Right Hand | September 2007 | ISBN: 0316021423, 9780316021425 | Fantasy | Mass Market Paperback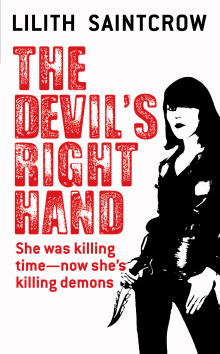 Dante Valentine is not a happy camper. She's just signed away seven years of her life—and her partner's—to hunt down four rogue demons that have escaped from hell. Maybe she'll find them. Maybe they'll find her. Nobody said it was easy being the Devil's right hand.
We are repackaging the first two novels to tie in with the release of The Devil's Right Hand, and publishing these three new installments on a rapid bi-monthly schedule.
Saint City Sinners
| November 2007 | ISBN: 0316021431, 9780316021432 | Fantasy | Mass Market Paperback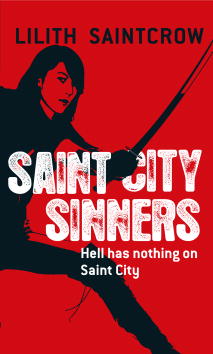 Saint City has always been Dante Valentine's home. It's where she grew up, it's where her dead are buried, and it's where she learned to hunt. Now, one call from an old friend will bring her back to investigate a murder too close to home for anyone's comfort. But the one person she trusted has just betrayed her. Sometimes revenge is best served demon-hot…
To Hell and Back
January 2008 | ISBN: 0316001775, 9780316001779 Fantasy | Mass Market Paperback
Fifth and final book of the Dante Valentine series
Plot. Counterplot. Betrayal. Intrigue. When you're working for the Devil, it's all par for the course. You just have to live with it. Right?
Wrong. When you're Danny Valentine and the Devil double-crosses you one too many times, there's only one thing to do.
Fight back. No matter how hopeless it is. No matter how suicidal it is. No matter how far the game is rigged in the Devil's favor.
Welcome to Hell.
The Kingmaker, Kingbreaker Duology
The Innocent Mage | September 2007 | ISBN: 0316067806, 9780316067805 | Fantasy | Mass Market Paperback
Asher is a fisherman's son. He yearns for the city and a life away from everything—and everyone—he's ever known. But when he finally arrives, he will realize that destiny asks for a steep price. And the sacrifice it demands may be his life.
The Awakened Mage
October 2007 | 0316067814, 9780316067812 | Fantasy | Mass Market Paperback
"The evil foretold has risen … and we are all that stands between it and the end."
Asher has come a long way for a fisherman's son. Together with his friend Prince Gar, he has defended their kingdom against its bitterest enemy, but at great cost. Now, the evil mage Morg is preparing for his most deadly assault. Desperate, trapped in a broken body, Morg has little time and fewer scruples. And he has a plan. As Gar and Asher unwittingly fall into a dangerous deception, Morg gets ever closer to his goal. And this victory would be particularly sweet?for who better to destroy the kingdom than the two who would give anything to save it?
The Jaz Parks Series
Once Bitten, Twice Shy | October 2007| ISBN: 031602046X, 9780316020466 | Fantasy | Trade Paperback
Jaz Parks loves her job. She gets to travel, meet interesting people, drive fast cars… and once in a while, she even gets to kill the bad guys. There are perks to working with the C.I.A.'s top vampire assassin.
We are publishing the first three novels in this hot new series on a rapid bi-monthly schedule starting in October 2007
Another One Bites the Dust | December 2007 | 0316020575, 9780316020572| Fantasy | Trade Paperback
Jaz Parks has enough trouble in her personal life. What she doesn't need is more trouble with her vampire boss and another mission. This time she has to retrieve a vital piece of biotechnology by killing the maniac who stole it: an ancient Chinese vamp. Their cover in this mission: professional entertainers at the Corpus Christi's Winter Festival. The crew's all here: a psychic, a techno-wizard, a singing vampire, a juggling PI, and Jaz. Holy crap in a bottomless well, Jaz is going to bellydance. It's definitely, probably, quite possibly going to be the end of the world as we know it.
Biting the Bullet | February 2008 | ISBN: 0316020583, 9780316020589 | Fantasy | Trade Paperback
The Raptor, the CIA's longtime nemesis, is back. Jaz Parks and her vampire boss Vayl are asked to join her brother David's special ops team to take him down. But when her spirit guide tells her that she's being lead to the wrong man, and she starts asking the wrong questions, her life — and her job– are threatened. And the one person who can help her–her boss– is off on a wild goose chase. Add to the mix a pack of reavers bent on revenge along with a small army of desert monsters, and BITING THE BULLET will take you so close to the edge of your seat you may want to leave a pillow on the floor just in case.
The Engineer Trilogy
For a petty transgression of Guild law, an Engineer is exiled from his city and separated from his family. To get them back, he will have to design the most complex machine of all… A war.
The three books in the Engineer Trilogy will be published in three consecutive months.
Devices and Desires | October 2007 | ISBN: 0316003387, 9780316003384| Fantasy | Trade Paperback
Evil for Evil | November 2007 | 0316003395, 9780316003391 | Fantasy | Trade Paperback
The Escapement | December 2007 | 0316003409, 9780316003407 | Fantasy | Trade Paperback
The Fire of Heaven Trilogy
From a tiny snowbound village, six men and women embark on a dangerous quest to challenge an ancient evil, fulfill a prophecy, and change the course of their world's history.
We will be publishing the Fire of Heaven Trilogy in three consecutive months.
Across the Face of the World | January 2008 | ISBN: 0316003417, 9780316003414 | Fantasy | Mass Market Paperback
In the Earth Abides the Flame | February 2008 | ISBN: 0316003425, 9780316003421 | Fantasy | Mass Market Paperback
The Right Hand of God | March 2008 | 0316003433, 9780316003438 | Fantasy | Mass Market Paperback
The Saga of Seven Suns
Humanity has survived many wars against the creatures of the known universe, and between themselves. But the Klikiss, a race long thought to be extinct, have returned. And they are willing to annihilate anyone who stands in their way.
Metal Swarm | December 2007 | ISBN: 0316021741, 9780316021746 | Science Fiction | Hardcover
Of Fire and Night | November 2007 | ISBN: 0316021733, 9780316021739 | Science Fiction | Mass Market
Debatable Space
January 2008 | ISBN: 0316018929, 9780316018920 | Science Fiction | Trade Paperback
Flanagan (who is, for want of a better word, a pirate) has a plan. It involves kidnapping the daughter of the ruler of the known universe, holding her for ransom, and maybe, just maybe, ousting the Cheo from his throne and throwing the galaxy into a civil war. Too bad it hasn't worked the previous times he's tried it.
Debatable Space is an audaciously executed tale of revolution and revenge set in the far future—and everywhere in-between.
Matter
February 2008 | ISBN:03160053633, 9780316005364| Science Fiction | Hardcover
The Culture is a far-future society of seemingly limitless resources and infinite technological possibilities. Yet the Culture is far from perfect, and it is still subject to brutal wars, political upheaval and intrusions from beyond the edges of known space.
The new novel from Iain M. Banks, set in the universe of the Culture, will be a major international event in the science fiction field. As part the Iain M. Banks publishing program, Orbit will also be relaunching his classic Culture novels: Consider Phlebas and The Player of Games.
Black Ships
March 2008 | ISBN: 0316068004, 9780316068000 | Fantasy | Trade Paperback
The world is ending. One by one, the mighty cities are falling, to earthquakes, to floods, to raiders on both land and sea.
In a time of war and doubt, Gull is an oracle. Daughter of a slave taken from fallen Troy and chosen at the age of seven to be the voice of the Lady of the Dead, it is her destiny to counsel kings.