| | |
| --- | --- |
| April: | May: |
| June: | July: |
| August: | |
The Gaslight Dogs
April-10 | 978-0-316-02179-1 | Mass Market Paperback|
At the edge of the known world, an ancient nomadic tribe faces a new enemy-an Empire fueled by technology and war.
A young spiritwalker of the Aniw and a captain in the Ciracusan army find themselves unexpectedly thrown together. The Aniw girl, taken prisoner from her people, must teach the reluctant soldier a forbidden talent – one that may turn the tide of the war and will surely brand him an outcast.
From the rippling curtains of light in an Arctic sky, to the gaslit cobbled streets of the city, war is coming to the frozen north. Two people have a choice that will decide the fates of nations – and may cast them into a darkness that threatens to bring destruction to both their peoples.
---
The Magician's Apprentice
April-10 | 978-0-316-03787-7 | Mass Market Paperback|
Taking place hundreds of years before the events of The Magicians' Guild, The Magician's Apprentice is the new novel set in the world of Trudi Canavan's Black Magician trilogy.
In the remote village of Mandryn, Tessia serves as assistant to her father, the village Healer. Her mother would rather she found a husband. But her life is about to take a very unexpected turn.
When the advances of a visiting Sachakan mage get violent, Tessia unconsciously taps unknown reserves of magic to defend herself. Lord Dakon, the local magician, takes Tessia under his wing as an apprentice.
The hours are long and the work arduous, but soon an exciting new world opens up to her. There are fine clothes and servants and – to Tessia's delight – regular trips to the great city of Imardin.However, Tessia is about to discover that her magical gifts bring with them a great deal of responsibility. For a storm is approaching that threatens to tear her world apart.
---
The Mage in Black
April-10 | 978-0-316-03780-8 | Mass Market Paperback|
Sabina Kane doesn't have the best track record when it comes to family. After all, her own grandmother, the leader of the vampire race, just tried to kill her. When she arrives in New York to meet the mage side of her family, the reunion takes the fun out of dysfunctional. On top of that, the Hekate Council wants to use her as a pawn in the brewing war against the vampires. Her mission will take her into the bowels of New York's Black Light district, entangles her in mage politics, and challenges her beliefs about the race she was raised to distrust. And Sabina thought vampires were bloodthirsty.
---
Changeless
April-10 | 978-0-316-07414-8 | Mass Market Paperback|
Alexia Tarabotti, the Lady Woolsey, awakens in the wee hours of the mid-afternoon to find her husband, who should be decently asleep like any normal werewolf, yelling at the top of his lungs. Then he disappears – leaving her to deal with a regiment of supernatural soldiers encamped on her doorstep, a plethora of exorcised ghosts, and an angry Queen Victoria.
But Alexia is armed with her trusty parasol, the latest fashions, and an arsenal of biting civility. Even when her investigations take her to Scotland, the backwater of ugly waistcoats, she is prepared: upending werewolf pack dynamics as only the soulless can.
She might even find time to track down her wayward husband, if she feels like it.
---
The Poison Throne
April-10 | 978-0-316-07706-4 | Trade Paperback|
Young Wynter Moorehawke returns to court with her dying father – but she finds her old home shadowed with fear. The king has become a violent despot, terrorizing those he once loved. His son and heir Alberon has fled into exile and now there are whispers everywhere of rebellion. Meanwhile, Alberon's half-brother Razi has been elevated to his throne. He struggles to meet his King's demands while remaining loyal to his beloved brother and to his friend-Wynter.
And at the heart of matters is a secret that no one dares speak of. A secret so large it could tear the kingdom in two and Wynter is at the heart of it all. Her father lies dying. Her king is mad. Her friends are divided.
She must choose- her father or her dreams, her friend or her king, her duty… or her love.
---
The Edge of the World
May-10 | 978-0-316-00419-0 | Mass Market Paperback|
Terra Incognita – the blank spaces on the map, past the edge of the known world, marked only by the words 'here be monsters.'
Two nations at war, fighting for dominion over the world, pin their last hopes of ultimate victory on finding a land out of legend.
Each will send its ships to brave the untamed waters, wild storms, sea serpents, and darker dangers unseen by any man. It is a perilous undertaking, but there will always be the impetuous, the brave, and the mad, willing to leave their homes to explore the unknown.Even unto the edge of the world…
---
Lord of the Changing Winds
May-10 | 978-0-316-07278-6 | Mass Market Paperback|
Griffins lounged all around them, inscrutable as cats, brazen as summer. They turned their heads to look at Kes out of fierce, inhuman eyes.
Little ever happens in the quiet villages of peaceful Feierabiand. The course of Kes' life seems set: she'll grow up to be an herb-woman and healer for the village of Minas Ford, never quite fitting in but always more or less accepted. And she's content with that path — or she thinks she is. Until the day the griffins come down from the mountains, bringing with them the fiery wind of their desert and a desperate need for a healer. But what the griffins need is a healer who is not quite human . . . or a healer who can be made into something not quite human.
---
Feed
May-10 | 978-0-316-08105-4 | Paperback|
The year was 2014. We had cured cancer. We had beat the common cold. But in doing so we created something new, something terrible that no one could stop. The infection spread, virus blocks taking over bodies and minds with one, unstoppable command: FEED.
Now, twenty years after the Rising, Georgia and Shaun Mason are on the trail of the biggest story of their lives-the dark conspiracy behind the infected. The truth will out, even if it kills them.
---
The Ambassador's Mission
May-10 | 978-0-316-03783-9 | Hardcover|
Sonea, once the despised commoner in the Magicians' Guild, is now a Black Magician of Kyralia. Though she is now part of the establishment, she comes to find that the past is not so easily left behind…
Lorkin, Sonea's rebellious son, has volunteered to join the formidable Lord Dannyl in his new post as Guild Ambassador to Sachaka – a land ruled by cruel, slave-owning black magicians. There is suspicion that some of the Sachakans still harbor dreams of conquest, so when word comes that Lorkin has gone missing, Sonea is desperate to find him. However, Guild law states that if a Black Magician leaves the city he or she will be exiled forever.
As she fears for her missing son, Sonea dedicates herself to helping her old friend Cery. For some time, there has been fear and paranoia on the streets of Imardin. Leading thieves have been dying under irregular circumstances. The need to discover who has been picking off the leading thieves of the city is now a very personal crusade – one that Sonea must aid, for the killer appears to be using magic.
Either a member of the Guild is leading a double life as a hired killer, or there is – once again – a rogue magician on the streets of Imardin . . .
---
Stealing Fire
May-10 | 978-0-316-07639-5 | Trade Paperback|
Alexander the Great's soldier, Lydias of Miletus, has survived the final campaigns of the king's life. He now has to deal with the chaos surrounding his death. Lydias throws his lot in with Ptolemy, one of Alexander's generals who has grabbed Egypt as his personal territory. Aided by the eunuch Bagoas, the Persian archer Artashir, and the Athenian courtesan Thais, Ptolemy and Lydias must take on all the contenders in a desperate adventure whose prize is the fate of a white city by the sea, and Alexander's legacy.
---
Best Served Cold
June-10 | 978-0-316-04495-0 | Mass Market Paperback|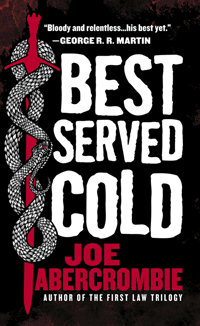 War may be hell, but for Monza Murcatto, a solider of considerable fortune; it's a damn good way of making money too. Her victories have made her popular – a shade too popular for her employer's taste. Betrayed and left for dead, Murcatto's reward is a broken body and a burning hunger for vengeance. Whatever the cost, seven men must die.
'Joe Abercrombie takes the grand tradition of high fantasy literature and drags it down into the gutter, in the best possible way.' — Time'
Abercrombie is both fiendishly inventive and solidly convincing, especially when sprinkling his appallingly vivid combat scenes with humor so dark that it's almost ultraviolet.' — Publishers Weekly'
A satisfyingly brutal fantasy quest. BEST SERVED COLD? Modern fantasy doesn't get much hotter than this.' — Dave Bradley, SFX
'Abercrombie has written the finest epic fantasy trilogy in recent memory. He's one writer that no one should miss.' — Junot Diaz on The First Law Trilogy
---
The Prodigal Mage
June-10 | 978-0-316-07640-1 | Mass Market Paperback|
Many years have passed since the last Mage War. It has been a time of great change. But not all changes are for the best, and Asher's world is in peril once more.
The weather magic that keeps Lur safe is failing. Among the sorcerers, only Asher has the skill to mend the antique weather map that governs the seasons, keeping the land from being crushed by natural forces. Yet, when Asher risks his life to meddle with these dangerous magic, the crisis is merely delayed, not averted.
Asher's son Rafel inherited his father's talents, but he has been forbidden to use them. With Lur facing devastation, however, he may be its only hope.
---
Land of the Burning Sands
June-10 | 978-0-316-07279-3 | Mass Market Paperback|
Gereint Enseichen of Casmantium knows little and cares less about the recent war in which his king tried to use griffins and fire to wrest territory from the neighboring country of Feierabiand…but he knows that his kingdom's unexpected defeat offers him a chance to escape from his own servitude.
But now that the griffins find themselves in a position of strength, they are not inclined to forgive and the entire kingdom finds itself in deadly peril. Willing or not, Gereint will find himself caught up in a desperate struggle between the griffins and the last remaining Casmantian mage. Even the strongest gifts of making and building may not prove sufficient when the fiery wind of the griffins begins to bury the life of Casmantium beneath the burning sands . . .(back to list)
---
Blonde Bombshell
June-10 | 978-0-316-08699-8 | Trade Paperback|
The year is 2017. Lucy Pavlov is the CEO of PavSoft Industries, home of a revolutionary operating system that every computer in the world runs on. Her personal wealth is immeasurable, her intelligence is unfathomable, and she's been voted 'Most Beautiful Woman' for three years running. To put it simply – she has it all.
One thing, however, is not quite right in Lucy's life. She doesn't realize it yet, but she is in fact a bomb.
And not just any old bomb. Lucy is a very big, and very smart bomb, and her mission is to blow up the planet known as Earth.
---
The Map of All Things
June-10 | 978-0-316-00421-3 | Trade Paperback|
The Map of All Things continues Kevin J Anderson's epic fantasy of sailing ships, crusading armies, sea monsters and enchanted islands.
---
The Eternal Prison
July-10 | 978-0-316-07560-2 | Mass Market Paperback|
Avery Cates is a wanted man. After surviving the worst bioengineered disaster in history, Cates finds himself incarcerated – in Chengara Penitentiary. As Chengara has a survival rate of exactly zero, the system's most famous gunner needs a new plan. And a betrayal or so later, he achieves his goal. At a price.
All he has to do now is defeat some new personal demons, forge some unlikely alliances, and figure out why the people he's killed lately just won't stay dead.
---
Tracking the Tempest
July-10 | 978-0-316-05657-1 | Mass Market Paperback|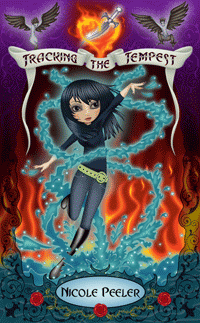 Valentine's Day is fast approaching, and Ryu – Jane's bloodsucking boyfriend – can't let a major holiday go by without getting all gratuitous. An overwhelming dose of boyfriend interference and a last-minute ticket to Boston later, and Jane's life is thrown off course.
Ryu's well-intentioned plans create mayhem, and Jane winds up embroiled in an investigation involving a spree of gruesome killings. All the evidence points towards another Halfling, much to Jane's surprise…
---
Wizard Squared
K.E. Mills |
July-10 | 978-0-316-03543-9 | Mass Market Paperback|
When the staff of Witches Incorporated receive a visitor from an alternate reality, they are shocked to learn that life in the parallel world next door is anything but a bed of roses … and it's all because of Gerald Dunwoody.
At a crucial moment in time, their Gerald turned left … but the alternate reality Gerald turned right. Now the parallel world next door is in the grip of terror, staring down the barrel of a thaumaturgical war — a war that threatens to spill across the dimensions and plunge every reality into a nightmare.
The only person who can stop a rogue wizard gone mad is another rogue wizard. But what do you do when another rogue wizard can't be found?
WIZARD SQUARED is the conclusion to the Rogue Agent trilogy, from one of fantasy's newest stars.
---
The Crowded Shadows
July-10 | 978-0-316-07708-8 | Trade Paperback|
Wynter Moorehawke travels alone and unprotected through bandit-infested forests, searching for the rebel prince Alberon. But many enemies are lurking in the shadows. It seems that every tyrant and zealot who has ever threatened the Kingdom is sending emissaries to meet Alberon. Wynter becomes increasingly nervous of the prince's intentions.
She is overjoyed when Razi and Christopher reappear, but where old friends go, old enemies soon follow and Wynter finds herself confronted with the infamous wolves, the Loup-Garous. It is to Christopher's adopted people, the Merron, that Wynter and Razi must now turn for sanctuary. But the Merron have sided with their mortal enemy, Marguerite Shirken. What is behind these strange alliances and is Alberon at the center of it all?
---
The Unit
Terry DeHart |
July-10 | 978-0-316-07740-8 | Trade Paperback|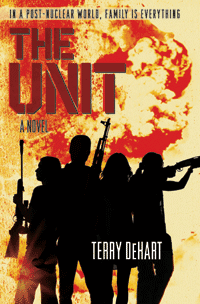 Jerry Sharpe is an ex-marine and, for him, survival means protecting his family by any means necessary.
Susan is learning just how far a mother will go for her children. But how far will she go for a man she doubted before the bombs fell? As Jerry's training and instincts take over, she is certain of one thing — her children need her.
Melanie was going to go to college. Now, she is struggling to find a way to live in a world gone mad without losing sight of what she believes in.Scotty has a new mission – more than survival. He was saved, and he'll be damned if he won't fight for what's right.
And Bill — Bill was locked up, but the power went out and the guards left. Now he and his fellow inmates have realized that everything is free for the taking…if you're strong enough to hold on to it. (back to list)
---
The Reluctant Mage
July-10 | 978-0-316-02921-6 | Hardcover|
Nine months have passed since Rafel disappeared in the expedition over the mountains. Deenie, now eighteen, starts having disturbing dreams about her brother. She comes to believe he's not dead after all, but is in trouble and needs her help.
She enlists the aid of her friend Charis, and the girls hatch a plan to escape from Lur. They succeed and survive the hazardous journey round the coastline past the mountains. But to their dismay, they discover that the lands beyond Lur are blighted with lawlessness and chaos. The remnants of Morg's consciousness that survived his death splintered at his downfall and sought refuge in whatever bodies could be found to host them.
Throughout their travels and adventures they get some answers about the other lost expeditions, and keep hearing about one fearsome mage whose stronghold is in the blighted near-mythical land of Dorana. Deenie knows this is her brother – and that Rafel is not only in danger, but has become dangerous. If he's not stopped he could become a threat to the whole world. Perhaps even another Morg.
---
Stormlord Rising
August-10 | 978-0-316-06914-4 | Mass Market Paperback|
The last Stormlord is dead. War has come to the cities of the Quartern. The violent, nomadic Redunners have put every rainlord they could find to the sword and the cities are left without hope.
Shale has been betrayed, drugged, and left at the feet of his greatest enemy. Now, he must decide to work with those who have plotted against him or let thousands of the waterless die. He has great power but is no Stormlord. At least, not yet…
Terelle has escaped the Scarpen in search of her homeland and her people, the mysterious Watergivers. But a desperate message will send her back to find Shale and face her worst fears.
The people of the Scarpen are in danger. Shale and Terelle must find a way to save their people and punish those who have destroyed all they ever loved.
---
The Bone Palace
August-10 | 978-0-316-06900-7 | Mass Market Paperback|
Death is no stranger in the city of Erisín, but some deaths attract more attention than others.
When a prostitute dies carrying a royal signet, Isyllt Iskaldur, necromancer and agent of the Crown, is called to investigate. Her search leads to desecrated tombs below the palace, and the lightless vaults of the vampiric vrykoloi deep beneath the city. But worse things than vampires are plotting in Erisín–a long-dead sorceress is making a bid not only for renewed life but for the throne as well, and Isyllt's former lover is caught in her schemes. Soon Isyllt is torn between the living and the dead, between the man she still loves, and the royal family she's sworn to defend.
As a sorcerous plague sweeps the city and demons stalk the streets, Isyllt must decide who she's prepared to betray, before the city built on bones falls into blood and fire.
---
The Terminal State
August-10 | 978-0-316-06982-3 | Mass Market Paperback|
Avery Cates is an army man. Between the army's new dental plan and a set of first class augments, he's been given a second chance – albeit a quick one.
When a corrupt officer decides to make some money on the side by selling new recruits, Cates finds himself in uncharted territory. Sold to the highest bidder, his visions of escape and revenge quickly come to an end when he realizes who's bought him – and for what. Because the high bidder is Canny Orel himself. And he wants Cates to do one last job as the System slides into chaos. Cates will have one shot at getting back at Canny – but this time, Canny is holding all the cards.
---
Death Most Definite
August-10 | 978-0-316-07800-9 | Mass Market Paperback|
Steven de Selby has a hangover. Bright lights, loud noise, and lots of exercise are the last thing he wants. But that's exactly what he gets when someone starts shooting at him.
Steven is no stranger to death-Mr. D's his boss after all-but when a dead girl saves him from sharing her fate, he finds himself on the wrong end of the barrel. His job is to guide the restless dead to the underworld but now his clients are his own colleagues, friends, and family.
Mr. D's gone missing and with no one in charge, the dead start to rise, the living are hunted, and the whole city teeters on the brink of a regional apocalypse-unless Steven can shake his hangover, not fall for the dead girl, and find out what happened to his boss- that is, Death himself.
---
The Black Prism
Augusts-10 | 978-0-316-07555-8 | Hardcover
The new fantasy blockbuster from Brent Weeks, New York Times bestselling author of The Way of Shadows.
---