Here's a list of Spring and Summer 2009 titles from Orbit in the US. For a complete listing of available titles and editions, visit HBGUSA.com.
A Madness of Angels
Kate Griffin
April-09 | 0-316-04125-4 | 978-0-316-04125-6 | HARDCOVER BOOK | US:$19.99 | CA:$21.99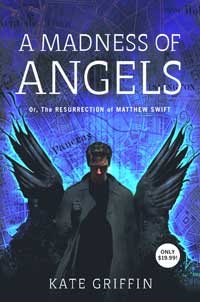 For matthew swift, today is not like any other day. It is the day on which he returns to life.
Two years after his untimely death, Matthew Swift finds himself breathing once again, lying in bed in his London home. Except that it's no longer his bed, or his home. And the last time this sorcerer was seen alive, an unknown assailant had gouged a hole so deep in his chest that his death was irrefutable…despite his body never being found. He doesn't have long to mull over his resurrection though, or the changes that have been wrought upon him. His only concern now is vengeance. Vengeance upon his monstrous killer and vengeance upon the one who brought him back.
Monster
May-09 | 0-316-04126-2 | 978-0-316-04126-3 | HARDCOVER BOOK | US:$19.99 | CA:$21.99
Pest Control isn't just for the raccoon in your attic, it's also for the yeti gobbling down ice cream in the freezer of your local grocery store.
When Judy has a run in with her first yeti, she calls Monster, the only pest control specialist qualified to handle such a situation. But Monster has his own home-grown problems, like his new workload, a hectoring assistant, and a succubus girlfriend from Hell — literally.
With more and more creatures appearing around the city, it will be up to Monster and Judy to throw aside their differences, figure out what exactly is going on in their town, how they can stop it, and why it just might mean the end of the world as they know it.
Best Served Cold
July-09 | 0-316-04496-2 | 978-0-316-04496-7 | HARDCOVER BOOK | US:$24.99 | CA:$0.00
Springtime in Styria. And that means war.
There have been nineteen years of blood. The ruthless Grand Duke Orso is locked in a vicious struggle with the squabbling League of Eight, and between them they have bled the land white. While armies march, heads roll and cities burn, behind the scenes bankers, priests and older, darker powers play a deadly game to choose who will be king.
War may be hell but for Monza Murcatto, the Snake of Talins, the most feared and famous mercenary in Duke Orso's employ, it's a damn good way of making money too. Her victories have made her popular – a shade too popular for her employer's taste. Betrayed, thrown down a mountain and left for dead, Murcatto's reward is a broken body and a burning hunger for vengeance. Whatever the cost, seven men must die.
Her allies include Styria's least reliable drunkard, Styria's most treacherous poisoner, a mass-murderer obsessed with numbers and a Northman who just wants to do the right thing. Her enemies number the better half of the nation. And that's all before the most dangerous man in the world is dispatched to hunt her down and finish the job Duke Orso started…
The Prodigal Mage
August-09 | 0-316-02920-3 | 978-0-316-02920-9 | HARDCOVER BOOK | US:$24.99 | CA:$27.99
Some seventeen years have passed since the defeat of the sorcerer Morg and the destruction of Barl's Wall: the last great Mage War, as the conflict is now known. It has been a time of great change. In the immediate aftermath of the conflict, one small exploratory expedition set out to cross the mountains, its aim being to discover who lived on the other side. But contact was lost with those brave folk – and they never returned.
All these years later, Asher and Dathne are still living in Dorana City, with their children, Rafel and Deenie. The family is torn apart over the decision to cross the mountains or remain part of their insular society. Much to Asher's chagrin, Rafel defies him and sets out on the journey over the mountains. When his expedition also goes missing, Asher is once again brought into the midst of an epic struggle.
Red-Headed Stepchild
April-09 | 0-316-03776-1 | 978-0-316-03776-1 | MASS MARKET | US:$7.99 | CA:$9.50
In a world where being of mixed-blood is a major liability, Sabina Kane has the only profession fit for an outcast: assassin. But, her latest mission threatens the fragile peace between the vampire and mage races and Sabina must scramble to figure out which side she's on. She's never brought her work home with her—until now. This time, it's personal.
Bloodheir
April-09 | 0-316-06807-1 | 978-0-316-06807-9 | MASS MARKET | US:$7.99 | CA:$9.50

Coming in Mass Market Paperback, BLOODHEIR is the stunning sequel to Winterbirth, one of the most acclaimed epic fantasy debuts of recent years.
Blood of Elves
May-09 | 0-316-02919-X | 978-0-316-02919-3 | MASS MARKET | US:$7.99 | CA:$9.50
Watch for the signs! What signs these shall be, I say unto you: first the earth will flow with the blood of Aen Seidhe, the Blood of Elves…
For over a century, humans, dwarves, gnomes, and elves have lived together in relative peace. But times have changed, the uneasy peace is over, and now the races are fighting once again. The only good elf, it seems, is a dead elf. Geralt de Rivia, the cunning assassin known as The Witcher, has been waiting for the birth of a prophesied child. This child has the power to change the world — for good, or for evil. As the threat of war hangs over the land and the child is hunted for her extraordinary powers, it will become Geralt's responsibility to protect them all — and the Witcher never accepts defeat. Following The Last Wish, BLOOD OF ELVES is the new novel starring Geralt de Rivia, the inspiration for the critically-acclaimed videogame The Witcher.
The Ashes of Worlds
May-09 | 0-316-00758-7 | 978-0-316-00758-0 | MASS MARKET | US:$7.99 | CA:$9.50
Galactic empires clash, elemental beings devastate whole planetary systems, and the factions of humanity are pitted against each other. Heroes rise and enemies make their last stands in the climax of an epic tale seven years in the making.
Acclaim for The Saga of Seven Suns
"Anderson weaves action, romance, and science with a rousing plot reflecting the classic SF of Clarke and Herbert and the glossy cinematic influence of Lucas and Spielberg." — Publishers Weekly
"Kevin Anderson has created a fully independent and richly conceived venue for his personal brand of space opera, a venue that nonetheless raises fruitful resonances with Frank Herbert's classic Dune series." — Scifi.com
"Everything about Anderson's latest is BIG — the war, the history, the aliens. These are elemental forces battling here, folks. Yet the characters are always the heart of the story, and their defeats and triumphs give perspective to it all." — Starlog
"A soaring epic … a space opera to rival the best the field has ever seen." — Science Fiction Chronicle
Orphan's Triumph
June-09 | 0-316-00175-9 | 978-0-316-00175-5 | MASS MARKET | US:$7.99 | CA:$9.50
Jason Wander is ready to lead the final charge into battle. After forty years of fighting the Slugs, mankind's reunited planets control the vital crossroad that secures their uneasy union. The doomsday weapon that can end the war, and the mighty fleet that will carry it to the Slug homeworld, lie within humanity's grasp. Since the Slug Blitz orphaned Jason Wander, he has risen from infantry recruit to commander of Earth's garrisons on the emerging allied planets. But four decades of service have cost Jason not just his friends and family, but his innocence. When an enemy counter stroke threatens to reverse the war and destroy mankind, Jason must finally confront not only his lifelong alien enemy, but the reality of what a lifetime as a soldier has made him.
Once Bitten, Twice Shy in Mass Market!
July-09 | 0-316-04354-0 | 978-0-316-04354-0 | MASS MARKET | US:$7.99 | CA:$9.50
I'm Jaz Parks. My boss is Vayl, born in Romania in 1744. Died there too, at the hand of his vampire wife, Liliana. But that's ancient history. For the moment Vayl works for the C.I.A. doing what he does best — assassination. And I help. You could say I'm an Assistant Assassin. But then I'd have to kick your ass.Vayl and I have to take out a Miami plastic surgeon with ties to terrorism. But the assignment gets complicated when it turns out he's in cahoots with a supernatural nasty powerful enough to bring America to her knees.
Another One Bites the Dust in Mass Market!
August-09 | 0-316-04355-9 | 978-0-316-04355-7 | MASS MARKET | US:$7.99 | CA:$9.50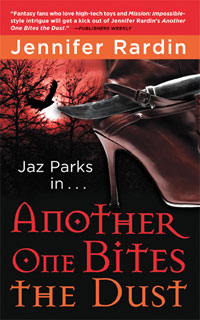 I'm Jaz Parks. CIA assassin. Black belt. Belly dancer at the Corpus Christi Winter Festival. The last is cover for my latest mission: retrieve a vital piece of biotechnology by killing the maniac who stole it. He's Chien-Lung, an obsessive vamp who's invulnerable while wearing his armor — which is constantly.Then there are the reavers, ancient fiends who murder innocents and eat their souls. Only I can sense them. So it's not long before they'll want me dead, dead, dead.
Witches Incorporated
July-09 | 0-316-03544-0 | 978-0-316-03544-6 | MASS MARKET | US:$7.99 | CA:$9.50
It's a case of espionage, skullduggery and serious unpleasantness. And it's also Gerald's first official government assignment. He's hunting down a deadly saboteur, and time is quickly running out. Old enemies and new combine forces to thwart him. Once again, innocent lives are on the line. He needs his friends. He can't do this alone. But Princess Melissande and Reg have troubles of their own. With the help of Monk Markham's brilliant, beautiful sister, they've opened a one-stop-shop witching locum agency, where magical problems are solved for a price. Problem is, the girls are struggling to keep the business afloat. Things are looking grim for Witches Incorporated — and that's before they accidentally cross paths with Gerald's saboteur. Suddenly everybody's lives are on the line and Gerald realizes, too late, that there's a reason government agents aren't supposed to have friends …WITCHES INCORPORATED is the second novel in the Rogue Agent trilogy, from one of fantasy's newest stars.
Redemption Alley
August-09 | 0-316-03546-7 | 978-0-316-03546-0 | MASS MARKET | US:$7.99 | CA:$9.50
Some cases are unusual — even for Jill Kismet. When her police contact asks her to look into a 'suicide', she suddenly finds herself in a labyrinth of deception, drugs, murder — and all-too-human corruption. The cops are her allies, except for the ones who want her dead. The hellbreed are her targets, except for the ones who might know what's going on. Her city is in danger, time is running out, and each lead only draws her deeper.How far will a hunter go when her city — and her friends — are on the line? Just far enough.Step into Redemption Alley…\
Orcs: Bad Blood
April-09 | 0-316-03369-3 | 978-0-316-03369-5 | TRADE PAPERBACK | US:$14.99 | CA:$0.00
Stryke and his band of warriors return in the first part of a brand-new Orcs adventure! When the orcs discovered a world filled with their own kind, they thought they would live there till the end of their days. But the appearance of an unlikely ally will change everything.This ally — a human — tells of the atrocities being visited upon orcs back in the other world. He implores Stryke and his companions to come back so that they may save their kind from extinction and wreak vengeance upon the humans who've wronged them.But can this human be trusted? Is he a rare friend to the orc — or is he there to lure them back for their own personal annihilation?
Fall of Thanes
May-09 | 0-316-06771-7 | 978-0-316-06771-3 | TRADE PAPERBACK | US:$14.99 | CA:$16.99
The True Bloods are in disarray, their alliance crumbling and their armies humbled by the forces of the Black Road. Aeglyss, falling ever deeper into madness, casts a shadow across all. At the court of the High Thane, Anyara faces a savage struggle for survival against the na'kyrim's possessed agent: Mordyn Jerain, the Shadowhand. In the Glas Valley, Kanin, the embittered Horin-Gyre Thane, plots a desperate rising against the halfbreed. But ultimately it will be Orisian, Thane of a Blood that no longer exists, who must stand face to face with a darkly transcendent Aeglyss and make the sacrifice – of himself and others – required to end the threat he represents. FALL OF THANES is the spectacular conclusion to the Godless World trilogy, a sweeping epic of war, politics and empire.
In Ashes Lie
June-09 | 0-316-02032-X | 978-0-316-02032-9 | TRADE PAPERBACK | US:$14.99 | CA:$16.99
September, 1666
The mortal civil war is over. But the war among the fae is still raging, and London is its battleground. There are forces that despise the Onyx Court, and will do anything to destroy it.
But now a greater threat has come, one that could destroy everything. In the house of a sleeping baker, a spark leaps free of the oven — and ignites a blaze that will burn London to the ground. For three harrowing days, the mortals and fae of the city will fight to save their home.
While the humans struggle to halt the conflagration that is devouring London street by street, the fae pit themselves against a less tangible foe: the spirit of the fire itself, powerful enough to annihilate everything in its path. Neither side can win on its own — but can they find a way to fight together?
"Stunningly conceived and exquisitely achieved. Brennan's myriad fantastical creations ring as true as her ear for Elizabethan and faerie dialogue." — Publishers Weekly Starred Review on Midnight Never Come
The Edge of the World
June-09 | 0-316-00418-9 | 978-0-316-00418-3 | TRADE PAPERBACK | US:$14.99 | CA:$16.99
Terra Incognita – the blank spaces on the map, past the edge of the world, marked only by the words 'here be monsters.'Two nations at war, fighting for dominion over the known, and undiscovered, world, pin their last hopes at ultimate victory on finding a land out of legend.Each will send their ships to brave the untamed seas, wild storms, sea serpents, and darker dangers unknown to any man. It is a perilous undertaking, but there will always be the impetuous, the brave and the mad who are willing to leave their homes to explore the unknown.Even unto the edge of the world…Kevin J. Anderson's spectacular fantasy debut is a sweeping tale of adventure on the high seas, as two warring kingdoms vie for the greatest treasure of them all.
Against a Dark Background
July-09 | 0-316-03637-4 | 978-0-316-03637-5 | TRADE PAPERBACK | US:$12.99 | CA:$0.00
Sharrow was once the leader of a personally-attuned combat team in one of the sporadic little commercial wars in the civilization based around the planet Golter. Now she is hunted by the Huhsz, a religious cult which believes that she is the last obstacle before the faith's apotheosis, and her only hope of escape is to find the last of the apocalyptically powerful Lazy Guns before the Huhsz find her.
Her journey through the exotic Golterian system is a destructive and savage odyssey into her past, and that of her family and of the system itself.
"Banks writes space opera on the grand scale: he measures time in eons, space in lightyears, tragedies in gigadeaths." — Time
The Dwarves
July-09 | 0-316-04944-1 | 978-0-316-04944-3 | TRADE PAPERBACK | US:$15.99 | CA:$17.99
For countless millennia, the dwarves of the Fifthling Kingdom have defended the stone gateway into Girdlegard. No man or beast has ever succeeded in breaching it. Until now.
Abandoned as a child, Tungdil the blacksmith labors contentedly in the land of Ionandar, the only dwarf in a kingdom of men. Although he does not want for friends, Tungdil is very much aware that he is alone – indeed, he has not so much as set eyes on another dwarf. But all that is about to change.
Sent out into the world to deliver a message and reacquaint himself with his people, the young foundling finds himself thrust into a battle for which he has not been trained. Although he has many unanswered questions about his past, Tungdil is certain of one thing: no matter where he was raised, he is a true dwarf. And no one has ever questioned the courage of the Dwarves.
The Eternal Prison
August-09 | 0-316-02211-X | 978-0-316-02211-8 | TRADE PAPERBACK | US:$12.99 | CA:$14.50
In this jaw-dropping sequel to The Digital Plague, Avery Cates must take on an enemy he never expected — himself.
"Somers' stunning debut introduces one of the genre's most promising newcomers." — Booklist on The Electric Church