Empress
0-316-00835-4 – 978-0-316-00835-8 | April-08 | MASS MARKET | Fantasy | 7.99 (US) | 9.50 (CAN)
In a family torn apart by poverty and violence, Hekat is no more than an unwanted mouth to feed, worth only a few coins from a passing slave trader. But Hekat was not born to be a slave. For her, a different path has been chosen. It is a path that will take her from stinking back alleys to the house of her God, from blood-drenched battlefields to the glittering palaces of Mijak. This is the story of Hekat, precious and beautiful.
Praise for Karen Miller
"Miller's prose is earnest and engaging, and her complex story accelerates nicely toward a brutal cliffhanger finale." — Publishers Weekly on The Innocent Mage
"Intriguing characters and a finely tuned sense of drama…" — Library Journal Review on The Innocent Mage
Orphan's Journey
0-316-00173-2 – 978-0-316-00173-1 | April-08 | MASS MARKET | Science Fiction | 6.99 (US) | 8.50 (CAN)
In the years since the last Slug War, Jason's command style hasn't made him any friends in the Army. Now, in an effort to keep him out of trouble, the Army has sent Jason to the vast, Earth-orbiting resort called New Moon.
At the core of this enormous space station is a starship, a relic from the last war. When a test run of the ship goes wrong, Jason, along with a handful of others, will be torn from orbit and thrust into space. Now, stranded on an alien planet, Jason realizes that not only are his friends looking to him for rescue, but an entire planet sees him as their only hope.
And look out for the mass market reissues of books one and two in the Jason Wander series.
Orphanage
0-316-01912-7 – 978-0-316-01912-5 | April-08 | MASS MARKET | Science Fiction | 6.99 (US) 8.50 (CAN)
Mankind's first alien contact tears into Earth: projectiles launched from Jupiter's moon, Ganymede, vaporize whole cities. Under siege, humanity gambles on one desperate counterstrike. In a spacecraft scavenged from scraps and armed with Vietnam-era weapons, foot soldiers like eighteen-year-old Jason Wander-orphans that no one will miss-must dare man's first interplanetary voyage and invade Ganymede.
They have one chance to attack, one ship to attack with. Their failure is our extinction.
Orphan's Destiny
0-316-01913-5 – 978-0-316-01913-2 | April-08 | MASS MARKET | Science Fiction | 6.99 (US)
8.50 (CAN)
At twenty-five, General Jason Wander has fought and won man's only alien conflict. Now, after long years in space, he's coming home…but to what? Earth's desperate nations, impoverished by war damage and military spending, are slashing defense budgets. There's just one problem with this new worldwide policy-the first alien invasion was merely Plan A.
Suddenly, the real assault begins: Earth is attacked by a vast armada of city-sized warships. To block their invasion, mankind has only one surviving craft and a single guerrilla strike force—a suicide squad led by Jason Wander.
Blood Ties
0-316-03346-4 | 978-0-316-03346-6 | April-08 | TRADE PAPERBACK | Fantasy | 12.99 (US) 14.50 (CAN)
A thousand years ago, the Eleven Domains were invaded and the original inhabitants forced on the road as Travelers, belonging nowhere, welcomed by no-one.
Now the Domains are governed with an iron fist by the Warlords, but there are wilder elements to the landscape which cannot be controlled and which may prove their undoing. Some are spirits of place, of water and air and fire and earth. Some are greater than these. And some are human.
Bramble: a village girl, whom no-one living can tame… forced to flee from her home for a crime she did not commit.
Ash: apprentice to a safeguarder, forced to kill for an employer he cannot escape.
Saker: an enchanter, who will not rest until the land is returned to his people.
As their three stories unfold, along with the stories of those whose lives they touch, it becomes clear that they are bound together in ways that not even a stonecaster could foresee — bound by their past, their future, and their blood.
The Last Wish
0-316-02918-1 | 978-0-316-02918-6 | May-08 | MASS MARKET | Fantasy | 6.99 (US) 8.50 (CAN)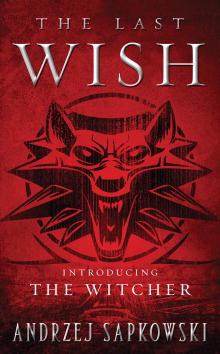 Geralt de Rivia is a witcher. A cunning sorcerer. A merciless assassin. And a cold-blooded killer. His sole purpose: to destroy the monsters that plague the world.
But not everything monstrous-looking is evil and not everything fair is good…and in every fairy tale there is a grain of truth.
The international hit that inspired the video game: The Witcher is available for the first time in the US from Orbit.
Praise for The Last Wish
"It's refreshing to see another take on familiar elements. There's a fairy-tale quality to much of THE LAST WISH." — SFX
The Digital Plague
0-316-02210-1 | 978-0-316-02210-1 | May-08 | TRADE PAPERBACK | Science Fiction | 12.99 (US) 14.50 (CAN)
Avery Cates is a very rich man. He's probably the richest criminal in New York City. But right now, Avery Cates is pissed. Because everyone around him has just started to die – in a particularly gruesome way. With every moment bringing the human race closer to extinction, Cates finds himself in the role of both executioner and savior of the entire world.
Praise for The Electric Church
"The book is filled with great action, even with the view of the future as bleak as it is. Best of all, it will never bog the reader down with techno-babble. Not only will you never feel lost, you'll never be bored." — Bookgasm.com
Bloodheir
0-316-06770-9 | 978-0-316-06770-6 | June-08 | TRADE PAPERBACK | Fantasy | 14.99 (US) 16.99 (CAN)
The world has fallen from its former state. The war between the clans of the Black Road and the True Bloods has spread.
For Orisian, thane of the ruined Lannis Blood, there is no time to grieve the loss of his family, brutally slain by the invading armies. The Black Road must be stopped. However, as more blood is spilled on the battlefields, so each side in the conflict becomes more riven by internal dissent and disunity.
Amidst the mounting chaos, Aeglyss the na'kyrim uses his new-found powers to twist everything and everyone around him to serve his own mad desires. Meanwhile, the long-dormant Anain are stirring — and when the most potent race the world has ever known returns, the bloodletting may never stop.
Watch for the Mass Market edition of Winterbirth, book one in the Godless World Trilogy, out this May
Winterbirth by Brian Ruckley
0-316-06806-3 | 978-0-316-06806-2 | May-08 | MASS MARKET | Fantasy | 7.99 (US) 9.50 (CAN)
"Heroic fantasy splashed with 300-style gore…Ruckley's realistic characters and sparing use of magic breathe new life into well-trod epic territory." — Entertainment Weekly
"Ruckley is an imaginative, dramatic storyteller. He's created a world that seems real, with characters who are well-drawn out and far more than one-dimensional."—Associated Press
"Readers who like their fantasy dark, multi-threaded and political will sink their teeth into this one."—Kirkus Reviews
Midnight Never Come
0-316-02029-X | 978-0-316-02029-9 | June-08 | TRADE PAPERBACK | Fantasy | 14.99 (US) 16.99 (CAN)
England flourishes under the hand of its Virgin Queen: Elizabeth, Gloriana, last and most powerful of the Tudor monarchs. But a great light casts a great shadow. In hidden catacombs beneath London, a second Queen holds court: Invidiana, ruler of faerie England, and a dark mirror to the glory above.
In the thirty years since Elizabeth ascended her throne, fae and mortal politics have become inextricably entwined, in secret alliances and ruthless betrayals whose existence is suspected only by a few. Two courtiers, both struggling for royal favor, are about to uncover the secrets that lie behind these two thrones.
When the faerie lady Lune is sent to monitor and manipulate Elizabeth's spymaster, Walsingham, her path crosses that of Michael Deven, a mortal gentleman and agent of Walsingham's. His discovery of the 'hidden player' in English politics will test Lune's loyalty and Deven's courage alike. Will she betray her Queen for the sake of a world that is not hers? And can he survive in the alien and Machiavellian world of the fae? For only together will they be able to find the source of Invidiana's power — find it, and break it…
A breathtaking novel of intrigue and betrayal set in Elizabethan England; Midnight Never Come seamlessly weaves together history and the fantastic to dazzling effect.
The Ashes of Worlds
0-316-00757-9 | 978-0-316-00757-3 | July-08 | HARDCOVER BOOK | Science Fiction | 25.99 (US) 28.99 (CAN)
The culminating volume in Kevin J. Anderson's Saga of Seven Suns weaves together the myriad storylines into a spectacular grand finale.
Galactic empires clash, elemental beings devastate whole planetary systems, and the factions of humanity are pitted against each other. Heroes rise and enemies make their last stands in the climax of an epic tale seven years in the making. The Saga of Seven Suns is one of the most colorful and spectacular science fiction epics of the last decade.
Look out for Metal Swarm in mass market in June
Metal Swarm by Kevin J. Anderson
0-316-02175-X | 978-0-316-02175-3 | June-08 | MASS MARKET | Science Fiction | 7.99 (US) 9.50 (CA)
The Hansa's brutal Chairman struggles to crush any resistance even as King Peter breaks away to form his own new Confederation among the colonies who have declared their independence. Swarms of ancient black robots built by the lost insectoid Klikiss race continue their depredations on helpless worlds with stolen and heavily armed Earth battleships.
Meanwhile, the original, voracious Klikiss race, long thought to be extinct, have returned, intent on conquering their former worlds and willing to annihilate anyone in their way.
Night Shift
0-316-00178-3 | 978-0-316-00178-6 | July-08 | MASS MARKET | Fantasy | 6.99 (US) 8.50 (CAN)
Not everyone can take on the things that go bump in the night.
Not everyone tries.
But Jill Kismet is not just anyone.
She's a Hunter, trained by the best – and in over her head.
Welcome to the night shift…
Use of Weapons
0-316-03057-0 | 978-0-316-03057-1 | July-08 | TRADE PAPERBACK | Science Fiction | 12.99 (US)
The man known as Cheradenine Zakalwe was one of Special Circumstances' foremost agents, changing the destiny of planets to suit the Culture through intrigue, dirty tricks and military action.
The woman known as Diziet Sma had plucked him from obscurity and pushed him towards his present eminence, but despite all their dealings she did not know him as well as she thought.
The drone known as Skaffen-Amtiskaw knew both of these people. It had once saved the woman's life by massacring her attackers in a particularly bloody manner. It believed the man to be a lost cause. But not even its machine could see the horrors in his past.
Ferociously intelligent, both witty and horrific, USE OF WEAPONS is a masterpiece of science fiction.
Path of Revenge
0-316-00715-3 | 978-0-316-00715-3 | August-08 | MASS MARKET | Fantasy | 7.99 (US) 9.50 (CAN)
Seventy years after the conclusion of the Faltha War, three great continents — and their gods— are again at war for truth and immortality.
Husk is the remnant of a once-powerful magician, defeated decades ago by the Undying Man, Lord of Bhrudwo. He lies, eviscerated, in the dungeon of Andratan, planning his revenge.
There are three things he needs: the stone, the blood and a hand of hate. The three people he has manipulated from afar to bring these things to him are on their way…with no way of knowing what lies in store. But even Husk cannot know everything.
Warrior
0-316-02705-7 | 978-0-316-02705-2 | August-08 | MASS MARKET | Fantasy | 6.99 (US) 8.50 (CAN)

Mirage, a bounty hunter, lives by her wits and lethal fighting skills. She always gets her mark. But her new mission will take her into the shadowy world of witches, where her strength may not be a match against powerful magic.
Miryo is a witch who has just failed her initiation test. She now knows that there is someone in the world who looks like her, who is her: Mirage. To control her powers and become a full witch, Miryo has only one choice: to hunt the hunter and destroy her.
Witch
0-316-02706-5 | 978-0-316-02706-9 | August-08 | MASS MARKET | Fantasy | 6.99 (US) 8.50 (CAN)
Created by the merging of witch and doppelganger, Mirei is a unique being. Her extraordinary magic makes her the most poweful witch alive — and a notorious social outcast. While Satomi, the leader of the witches' ruling Primes, hails Mirei as a miracle, rival Primes proclaim that Mirei is an evil abomination…and that those who champion her must be destroyed.
Now the different witch factions engage in a bloody war with magic, treachery, and murder. But both sides may be fighting for nothing. For the power that the rebel Primes fear, the magic that Mirei alone possesses, is killing her.
Bitten to Death
0-316-02208-X | 978-0-316-02208-8 | August-08 | TRADE PAPERBACK | Fantasy | 12.99 (US) 14.50 (CAN)
Jaz Parks and her vampire boss, Vayl, have already fought demons, vampires, and reavers. Now, juggling work and family takes on a new dimension as she tackles her latest challenge: nail the Raptor before he can reduce her to Jaz-bits, survive a head-on crash with Vayl's violent past, and lever her twin's military career back on track before a dishonorable discharge ruins his life. To top it off, she must also contend with her father's issues. Is he losing his mind? Or is someone really trying to kill him— from beyond the grave?
Praise for the Jaz Parks Series
"Urban fantasy just got a major new recruit with the launch of Rardin's exhilarating and high-speed Jaz Parks series."— Romantic Times Reviews Top Pick, 4.5 stars
"Talk about your fangs of Mass Destruction!" — The New York Post
"Jaz and Vayl may be tough, but they'll charm their way into your heart."— THE PARKERSBURG NEWS