- Laura Fitzgerald - March 7th, 2013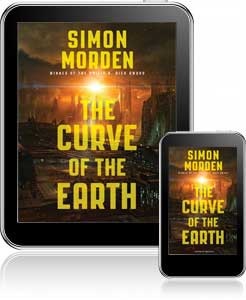 What do you think, is the sun rising or setting over the Metrozone in this gorgeous cover illustration by Tigaer Design? Whatever the case may be, we just love the cover of Simon Morden's new novel THE CURVE OF THE EARTH (US | UK | AUS).
Grab a copy of one of these wallpapers and get ready for a wild ride alongside the Russian anti-hero Samuil Petrovitch through the streets of a post-apocalyptic London of the Future. THE CURVE OF THE EARTH will be out at the end of the month.
If you need another size for your computer or electronic devices let us know.
1024 x 768  | 1280 x 800 | 1280 x 1024 | 1440 x 900 | 1680 x 1050 | 1920 x 1200 | iPhone | iPad | Facebook