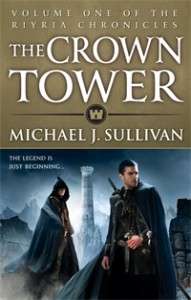 All my life I've done everything wrong, and yet oddly enough, it works for me. I didn't graduate college. I didn't wait to get married, and yet I've stayed married to the same woman for thirty years. I didn't take courses, or read books on how to write, and I gave up my dream of getting published after twenty years of trying. I wrote a six book traditional fantasy series with wizards, dwarves, and elves when such a thing was considered absurd. I self-published when no self-respecting writer would stoop so low, and I signed a contract with a major New York publisher when everyone else was making a fortune in self-publishing. So it should come as no surprise that the next book of mine to be released on August 6th through Orbit, THE CROWN TOWER (US | UK | AUS), is a prequel—because rumor has it no one likes prequels.
As usual, I didn't know there was a stigma regarding prequels any more than I knew there was a stigma around traditional fantasy, or self-publishing until after I did it. Ignorance is bliss, and they say God watches out for children, drunks, and fools. This may be the case, but I refuse to admit which of those I am.
Prequels are apparently disliked for the same reason people dislike sequels and prologues, except prequels are a combination of both. They have been known to feel tacked on and they also precede the interesting events of the primary story. You can feel a yawn approaching just looking at the cover of such a book. Prequels are usually about the childhood years, or possibly even the parents of some main character, and very likely have nothing at all to do with the original story. Once again not knowing all of this, not knowing how I was supposed to build a prequel, I failed to follow these rules. Instead I made the fateful error of fleshing out an origin-story for a legend.
Because I also made the error of writing a fantasy series that didn't include the formative years of my main characters—preferring to focus on them after they'd actually become interesting—I had skipped the episode where Peter Parker is bitten by the radioactive spider, Clark Kent crashed on Earth, and Bruce Wayne sees his parents murdered, (I really hope those weren't spoilers for anyone.) For me it just felt logical to include that story. The fact that the majority of my readers requested it didn't hurt either. (more…)