This summer, we ran our first ever Orbit Fantasy Writing Workshop. It was led by the million-copy bestselling author Karen Miller, and we're pleased to say it was a great success. We had an enthusiastic response from writers taking up the challenge to write 2,000 words of a fantasy novel in one week, and a large number of these participants also submitted their sample to our writing competition at the end of the week.
We were superbly impressed with the quality of submissions we received. All of them showed promise, and we can honestly say that we enjoyed every sample we read. The judging process proved very tricky, but the Orbit Editorial Team and Karen Miller have now picked their winner.
Congratulations to S. M. White from Louisville, Kentucky, who has won the competition with his submission "The Broken Door".
We were all thoroughly captivated by this sample. It tells the tale of Kirren – a soldier who has been set to watch over the gates of his city and guard against the demons that wait outside. When a battle-worn stranger appears at the walls, demanding to be let in, Kirren refuses – as he has been ordered to open the gates to no one. But when the stranger outside is attacked by a demon, Kirren must decide whether to obey his orders, or give into his compassion by aiding his fellow man…
This sample fulfilled the writing challenge that Karen had set of writing about a moral dilemma – and it did it in style.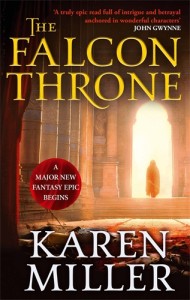 The prize S. M. White will receive is a number of editorial consultations with an Orbit editor and Karen Miller herself on this sample and further sections of his complete novel.
We have also informed a small number of competition entrants about being on the final shortlist, and they will all be receiving free copies of Karen Miller's novel THE FALCON THRONE (US |UK | AUS).
For all those who took part but didn't win – please don't be disheartened. The quality of everything we received was high, and we hope that you're going to keep plugging away, because writing is all about sticking at it!
We're hoping to run another Orbit Fantasy Writing Workshop in future, so please do look out for that. In the meantime, for more writing inspiration, follow Karen Miller on her site at www.karenmiller.net