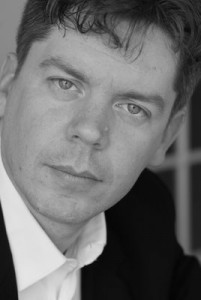 Whether it's writing urban fantasy as M. L. N. Hanover, epic fantasy under his 'real' name, or space opera as one half of James S. A. Corey (the 'James' part, apparently), there's no doubt that Daniel Abraham is a man of many talents – and many guises.
This invariably leads to two questions: why the various names, and where should you begin your Daniel Abraham experience?
We can help you with the second question, but first let's have Daniel himself answer the first:
I recognize that my take on working with a different name for each different project is a little idiosyncratic, but it's not exactly unprecedented.  Richard Stark and Donald Westlake, for instance, were openly the same guy writing very different kinds of books.  The name on the cover is one of the best ways to let people know what kind of ride they're signing on for, and that can avoid a lot of disappointment later.  There's a price to pay in that folks who like the things I do under one name might have to dig a little to find all the other stuff, but in the age of the Internet, it's a pretty low investigative bar to clear.  I think the tradeoff's worth it.

 There are also writers I know, like, and admire who don't like the idea of putting a name on their work that isn't the one they go by in the world.  Now, I know all writers are egoists, myself very much included, but that particular kink isn't one I have.  I don't care what name we put on the cover as long as I can be proud the work that went into it.

 There is another idea that if you know you like Stephen King (or Jeanette Winterson or Sebastian Junger — the model holds true for everyone), you're already better primed to like one of their books when you pick them up.  I think that if the name of the author is what makes a book good, it isn't a good book.
Many thanks to Daniel for the explanation! Now to the second question: which Daniel Abraham book is best for you? Read on and find out. (more…)